Matthew Will Pay To Party
Lance showed up to support his buddy for the LA premiere of We Are Marshall. You'd think that Matthew would be tired of going to all these premieres, but it's quite the opposite. Matthew loves to go out. So much so that he just topped InTouch Weekly's list of Hollywood's Biggest Party Animals. Most stars might be offended by this, but Matthew loves that he was named The Life of the Party. He says: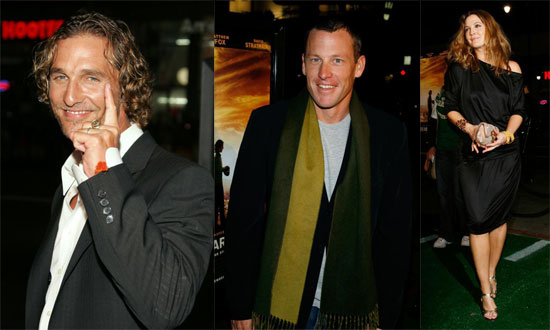 "I earned that one. I like to get there (party) early and I like to be the last to leave - especially if you have some good music and good company." The star believes the secret to ultimately capturing the title is all down to his smooth moves on the dance floor. He adds, "I've probably spent I don't know how many thousands of dollars paying bands to keep playing and paying clubs to stay open, saying, `Can you just play five more songs?' And if it's a charity event or something and you can go, `OK, a thousand bucks for every song you keep playing.' "I've woken up the next morning and said, 'Whoa - my pockets are empty!'"
At least it's for a good cause! For more pics including Drew Barrymore, McG, Matthew Fox, January Jones, Arlen Escarpeta, Wes Brown, James Denton, Josh Holloway, Kimberly Williams-Paisley, Kate Mara, Brad Paisley, Harold Perrineau, Brian Geraghty, Lance Armstrong, and Anthony Mackie just read more