Megan Fox — Temptress or Turn-Off?
Megan Fox in GQ — Temptress or Turn-Off?
Megan Fox strikes a sexy pose on the cover of next month's GQ, and evidently no detail is too private to share with the magazine. She was starting to bug you in June by being so open about her personal life, and there is more of the same here, including: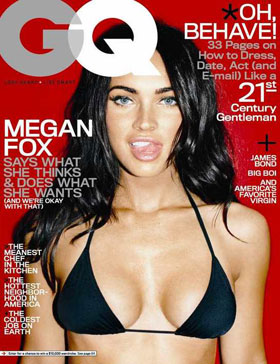 Her teenaged lesbian crush on a stripper named Nikita
Her hatred of the way Disney grooms their child stars
Her obsession with Jenna Jameson and Olivia Wilde
Grabbing boyfriend Brian Austin Green's crotch in public
Her belief that all humans are born with the ability to be attracted to both sexes
Wanting to be able to talk about sex like a man
She maintains that she's just a sexual person, but her over-sharing could be seen as an attempt to get publicity by causing a scandal like Angelina Jolie used to do. So tell us — is she a temptress or a turn-off?