Men of the Year Celebrate Themselves More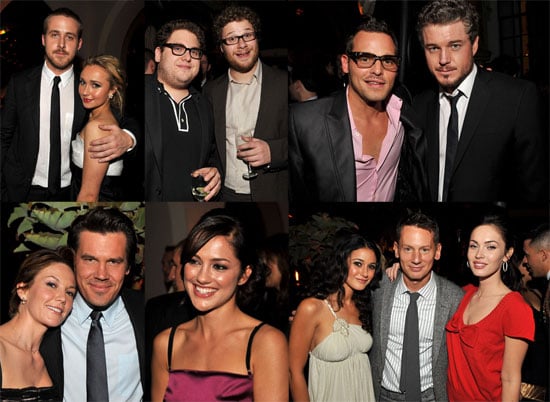 0
Men of the Year Celebrate Themselves More
While the red carpet had its share of hot guys and pretty young ladies, inside last night's GQ Men of the Year party was where things really got hopping. And by that, I mean Ryan Gosling was there. Geeky guys obviously rule, with Justin Chambers pulling off a bit of the Clark Kent about to become Superman thing with his undone shirt. At the event, Hayden lamented the fact that men traditionally get better roles than women. She said, "In general, there have always been better male roles than females, which has been a struggle." While that's no secret, little Hayden's got a mighty strong girl to play on Heroes. Now, how much fun would it be to party with this group of guys (and girls)?
To see more from the party including an adorable Emmanuelle Chriqui, Alex Rodriguez, Casey Affleck, Josh Brolin, Elizabeth Banks, Eric Dane, Emile Hirsch and others just
Images include Alex Rodriguez, Ben Foster, Carla Gugino, Casey Affleck, Dave Annable, Diane Lane, Elisha Cuthbert, Elizabeth Banks, Emile Hirsch, Emmanuelle Chriqui, Eric Dane, Eve, Hayden Panettiere, Jason Schwartzman, Jenna Dewan, Jim Nelson, Jimmy Iovine, John Varvatos, Jonah Hill, Josh Brolin, Justin Chambers, Justin Long, Kevin Connolly, Matthew Perry, Megan Fox, Milo Ventimiglia, Minka Kelly, Pharrell Williams, Rumer Willis, Ryan Gosling, Seth Rogen and Shaun White.