Men of the Year Party With the Women Who Are Obsessions
Two out of GQ's four cover boy Men of the Year came out to celebrate at the Chateau Marmont in LA last night. Jon Hamm and Leonardo DiCaprio both lived up to their steamy covers while Michael Phelps and Barack Obama (surprise) couldn't make it to the red carpet. Obsession of the year Megan Fox looked hot in pink and kept her boyfriend Brian Austin Green close for photos. Sarah Silverman and Jimmy Kimmel still don't want to define their relationship, but things seem very on again for this duo. January Jones looked glamorous as ever posing without her on-screen Mad Men husband Don Draper, but if the second season of the show taught us anything it's that Betty is just fine by herself. The party may have been about the men of the year, but the women held their own before heading in for a night of fun.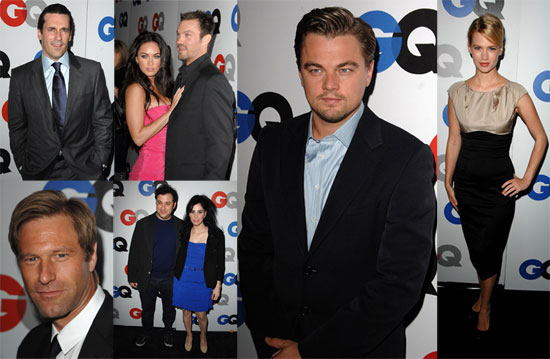 To see lots more from the party including Zac Efron, Zachary Quinto, Kathy Griffin, Adam Brody, Rosario Dawson, Elisha Cuthbert and many others just read more.
Images include Aaron Eckhart, Anton Yelchin, Jason Statham, Steven Strait, Leonardo, DiCaprio, Zac Efron, Zachary Quinto, January Jones, Lindsey Kraft, Megan Fox, Natalya Rudakova, Nikki Reed, Rashida Jones, Summer Glau, Kathy Griffin, Adam Brody, Brent Bolthouse, Brian Austin Green, Jon Hamm, Rodrigo Santoro, Amber Valletta, Elisha Cuthbert, Eliza Dushku, Emmanuelle Chriqui, Jaime King, Jamie-Lynn Sigler, LeeLee Sobieski, Olivia Wilde, Rosario Dawson, Seth MacFarlane, Sarah Silverman, Jimmy Kimmel, Big Boi, Shepard Fairey