Michael Fassbender in Elle UK December 2013 Issue
In Which Michael Fassbender Discusses His "Frizzy Bits"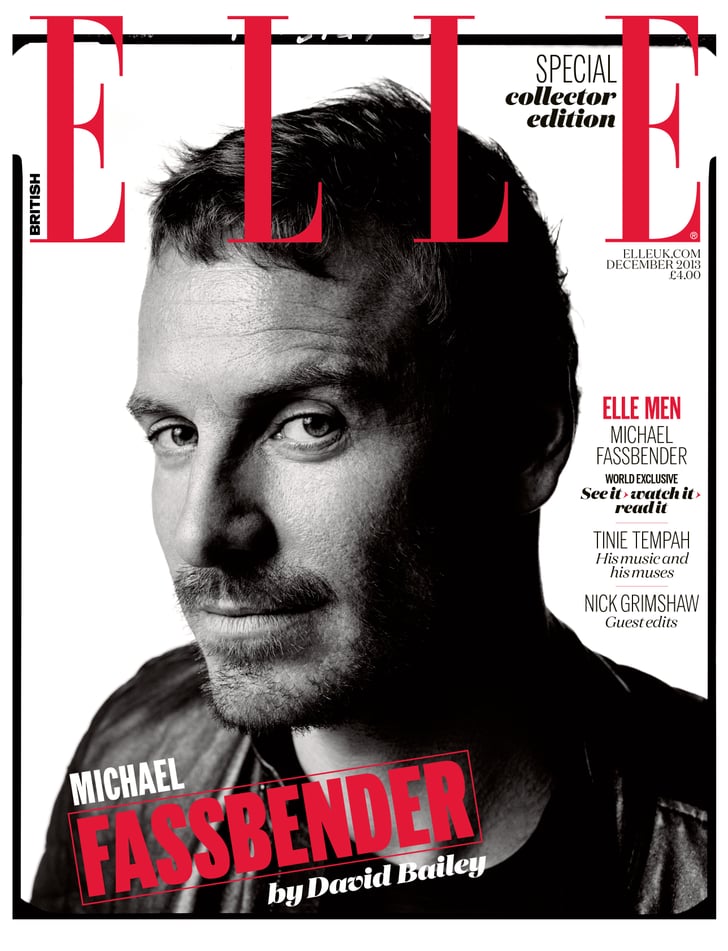 Would you believe that Michael Fassbender never thought of himself as good-looking? Yeah, us either. The brooding actor takes an artistic turn on the cover of Elle UK's December issue, channeling his signature bad-boy attitude in the photos shot by iconic UK photographer David Bailey. In the accompanying sit-down, Michael — whose films The Counselor and 12 Years a Slave are both in theaters now — opened up about being a bit of an ugly ducking growing up, revealing that he had "bad acne" and "unfortunate" hair. He also talked about being accosted by women since becoming famous and revealed whether or not he was asked to strip during his days in drama school. The full interview appears in the December issue of Elle UK — which is on sale Oct. 30 — and is also available as a digital edition; you can see some of Michael's standout quotes below now.
On playing the brutal slave owner Edwin Epps in 12 Years a Slave: "[He's] a boil on the skin of that period in America."
On being good-looking: "I've never really thought of myself as good-looking. I think of myself as, you know, all right. I used to have bad acne as a teenager, so all of this is a bonus now, the fact that I don't have pimples anymore. And my hair was also, you know, unfortunate. I had really long hair. I mean, I tied it back most of the time, but I had all these frizzy bits coming off the top, and whenever I let the hair down, it went like this [indicates big, bushy frizz]."
On being accosted by more women since becoming famous: "I'm not oblivious to it. It's not like I think I've become more charming or good-looking overnight. But, no, I haven't lost any respect [for women]. I'm an all right judge of character, so you can figure these things out."
On being asked to strip at the Drama Centre London (a school renowned for putting its students in difficult situations in order to break down their inhibitions): "No, I wasn't! And you know what, I would have told him to f*ck off if he did. That's horrible. I guess a lot of people were forced to do things there that they wouldn't have done, because they didn't want to get kicked out. Actresses in general in that school got a much harder time."