Michael Jackson Cost The WMAs A Lot
The World Music Awards were last night in London and Lindsay Lohan hosted the event. I guess that's why she skipped out on the Bobby screening the other night. Anyway, the big news of the night was Michael Jackson, who, as usual, was dressed all in black. MJ picked up the Diamond Award which is given only to artists who have sold over 100 million albums. It was a big deal to have MJ appear at the event but apparently he did not come cheap. The Scoop reports: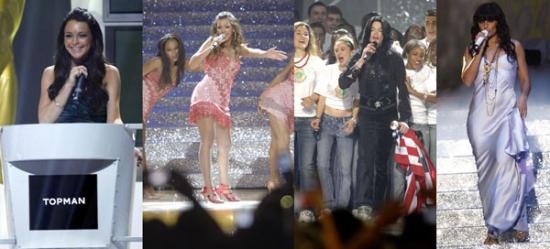 Michael Jackson performed at the World Music Awards, and is said to have had one of the most expensive concert riders ever. Jacko's set of demands cost WMA more than $470,000, according to the London Mirror, and included a private jet and 20 first-class and business-class plane tickets for his entourage — as well as an entire five-star hotel for almost $100,000 a night.

Jackson had 30 children in tow, and reportedly had a wall knocked down between two hotel suites for a playroom for the kiddies. "Yes, it's eccentric but he wants to create a homey environment for them," a source told the paper.

Despite his pricey demands, Jackson's food requests were apparently less expensive than most of the other stars performing that night: he allegedly asked for KFC.
Beyonce, Nelly Furtado, and Rihanna also performed while Paris Hilton, Elle Macpherson and Natalie Imbruglia were presenters. Lots more images of the performances from last night along with a list of the winners so read more
World's Best Pop Artist: Madonna
World's Best Pop/Rock Artist: Nelly Furtado
World's Best Rock Group: Nickelback
World's Best R&B Artist: Beyonce
World's Best Rap/Hip-Hop Artist: Kanye West
World's Best Latin Artist: Shakira
World's Best DJ: Bob Sinclair
World's Best New Artist: James Blunt