Michelle Obama on 106 & Park
What's the First Lady Doing on 106 & Park?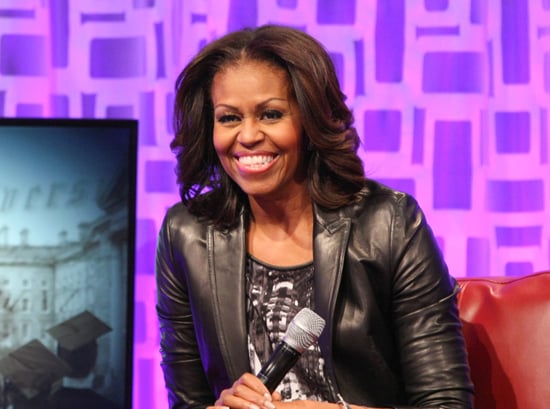 First Lady Michelle Obama showed the nation's youth they can be both smart and hip during an appearance on BET's 106 & Park on Monday. She donned an on-trend black leather jacket for an engaging chat about higher education with the show's hosts, Bow Wow and Keshia. Michelle flashed her infectious smile while describing the role education has played in helping her become the strong woman she is today. Let's not forget, M'Obama also has some hip-hop cred — she produced her own album about healthy living earlier this year.
During her interview, Michelle spoke to the audience about President Barack Obama's North Star goal, which aims to reposition the United States as the country with the highest proportion of college graduates in the world by 2020. The first lady has said that setting the ambitious goal is one of the very first things her husband did after becoming president. Education has been a cornerstone of Michelle's agenda lately, as she recently refocused her energies on education advocacy to inspire students to work toward earning a college degree. She also welcomed stars like Whoopi Goldberg and Blake Lively to the White House for a workshop event about film-industry careers last week.