Michelle Obama Growing Out Bangs
"It's Hard to Make Speeches With Hair in Your Face!" First Lady Mixes Style With Substance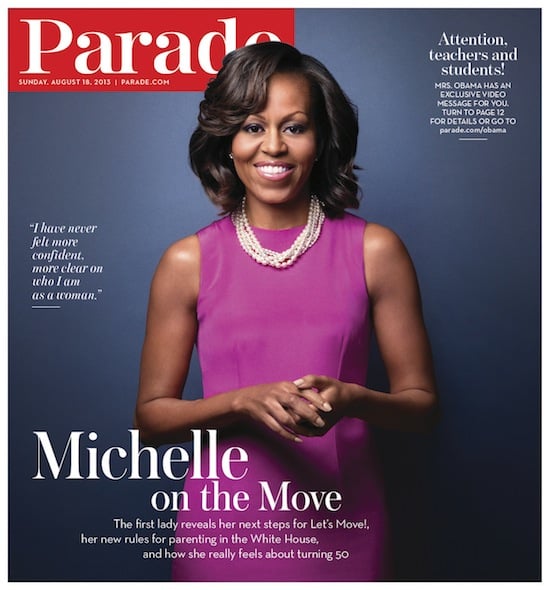 Michelle Obama is on the cover of Parade this week, and in the issue she covers her much-discussed bangs and her work on childhood obesity, proving again that she's an icon of style of substance. The first lady, who is backing a new hip-hop album about healthy eating, says she hopes to keep her cool factor high even into old age. Michelle said, "I want to be this really fly 80-, 90-year old." Check out more highlights:
On turning 50 in January: "I have never felt more confident in myself, more clear on who I am as a woman.  But I am constantly thinking about my own health and making sure that I'm eating right and getting exercise and watching the aches and pains. I want to be this really fly 80-, 90-year old."
On whether she'll see a woman president in her lifetime: "Yes, I think the country is ready for it.  It's just a question of who's the best person out there."
On how the first black first family has made a difference: "Children born in the last eight years will only know an African-American man being president of the United States. That changes the bar for all of our children, regardless of their race, their sexual orientation, their gender.  It expands the scope of opportunity in their minds. And that's where change happens."
On ditching bangs: "You know, it's hard to make speeches with hair in your face!"
Be sure to check out Parade when it comes out on Sunday.