Michelle Obama Heckler Audio
Listen to Michelle Obama Take On a Heckler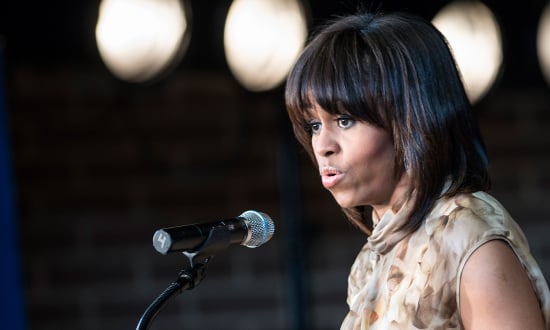 "Listen to me or you can take the mic, but I'm leaving," Michele Obama reportedly told a heckler last night at a Democratic fundraiser. A woman interrupted the first lady to ask her why the president had not done more to stop federal contractors from discriminating against LGBT Americans. Apparently the heckler, lesbian activist Ellen Sturtz, had planned the confrontation on behalf of the group GetEQUAL. In a statement, Sturtz said: "I had planned to speak tonight with DNC officials but, as the First Lady was talking about our children's future and ensuring that they have everything they need to live happy and productive lives, I simply couldn't stay silent any longer. I'm looking ahead at a generation of young people who could live full, honest, and open lives with the stroke of the President's pen, and I was hoping that the First Lady would share my concern for all of our young people."
Despite Sturtz's intentions, neither the first lady nor the crowd, who came to her defense, were impressed. The first lady's supporters cheered when Sturtz was escorted out. This comes after President Obama was heckled late last month during a press conference on national security. The president took a different approach, waiting with an abundance of patience and telling the heckler, "We're addressing that ma'am" and saying "the voice of that woman is worth paying attention to" while admitting he didn't agree with much of what she said.
Listen to yesterday's exchange between the first lady and the LGBT activist now and just keep reading to see CNN's video of the encounter.