Michelle Obama Hip-Hop Album
Michelle Obama's Upcoming Hip-Hop Album Has the Best Track List Ever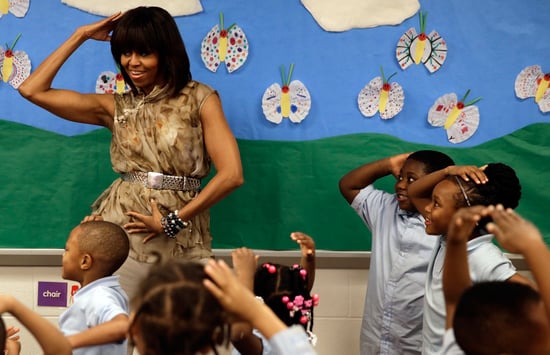 It's a first lady first — Michelle Obama is releasing a hip-hop album. You read that correctly. The album, featuring "artists" like Dr. Oz, will promote her Let's Move campaign, and the kid-targeted selection gets the message across with song titles like "Veggie Luv" and "U R What You Eat." With the help of stars like Jordin Sparks, Ashanti, and Run DMC, the down-to-dougie Michelle has put together 19 tracks and 10 music videos to help fight childhood obesity. The effort follows up on Michelle's partnership with Beyoncé in 2011, when the pair collaborated on a "Move Your Body" workout song and routine for the Let's Move campaign.
The album, titled Songs for a Healthier America, comes out on Sept. 30, but you can take a look at the full track list and one of the music videos below.
"U R What You Eat" (Salad Bar: Matisyahu, Ariana Grande, Travis Barker)
"Everybody" (Jordin Sparks, Doug E. Fresh, Dr Oz, Ryan Beatty, Hip Hop MD)
"Let's Move" (Doug E. Fresh, Artie Green, Chauncey Hawkins)
"Just Believe" (Ashanti, Gerry Gunn, Artie Green, Robbie Nova)
"Veggie Luv" (Monifah and J Rome)
"Hip Hop FEET" (Monifah and J Rome)
"Stronger" (Shayna Steele, Jeremy Jordan, Our Time Theater kids, and E-Street Band guitarist Nils Lofgren)
"Give Myself a Try" (Ryan Beatty)
"Jump Up" (Brady Rymer and the Little Band That Could)
"Hip Hop LEAN" (Artie Green)
"Pass the Rock" (Iman Schumpert and Artie Green)
"Good Living" (Ashton Jones)
"Beautiful" (Ashton Jones)
"Change the Game" (Paul Burch)
"Wanna Jump (Let's Move)" (Amelia Robinson)
"Mother May I" (Ashton Jones)
"We Like Vegetables" (Los Barkers!)
"Get Up Sit Up" (Los Barkers!)
"One Step Forward" (Samite)
Watch Jordin Sparks in the "Everybody" music video below.