Michelle Obama Quote on Voting and Her Daughters
Michelle Obama: "We Owe It to Our Daughters" to "Keep Fighting" and Vote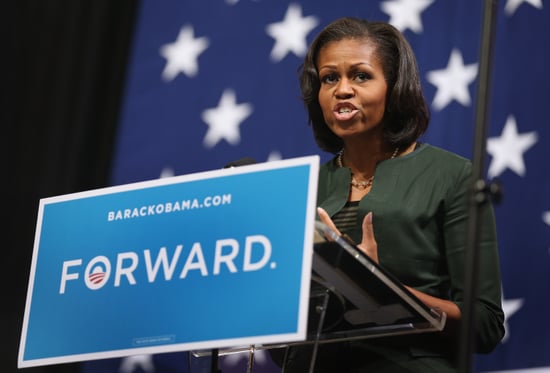 We are thrilled to share the next answer in our series with First Lady Michelle Obama. It's the last day to register to vote in a number of states, so make sure to check out Gotta Vote.com to make sure you're ready come election day. Just 28 days until the election, so check out what Michelle has to say about the importance of women making our voices heard at the polls:
PopSugar reader SFGrl asks, "I recently got married and this will be the first election I'll be voting as a married woman. My husband, who has opposing political views, has given me a lot to think about come Election Day. I would love to hear what the first lady has to say about how as a woman, wife, and someday a mother, I can best prepare myself to vote."
"Well first of all, congratulations to you and your husband! Barack and I wish you both a long and happy life together.
No matter what your political views are, I think it's important for everyone in this country to get engaged in our political process. Our democracy is most successful when everyone speaks their voice, and of course we do that in elections by voting.
As women, I think it's particularly important that we make sure that our voices are part of the conversation. Generations of women have fought to leave behind a world where we have all the choices and opportunities that men have. And I believe we owe it to our daughters — and our sons — to stay engaged and keep fighting for the world we want to leave for them. With all that is at stake in this election — whether it's equal pay for women, access to health care, how we're going to keep rebuilding our economy — women can't afford to be silent. We have to remember that, if we don't speak up, other people will make our decisions for us.
So I hope every woman out there will take a moment to think about what really matters most to them in this election. Read up on the candidates and get informed about the issues that are important to you. And make sure you go out and vote. If you're unsure of how or where to do that, just visit GottaVote.com to get all the information you need."