Michelle Obama Quotes About the Kardashians
Are Barack and Michelle Obama Fans of the Kardashians?
Yesterday, PopSugar was invited to the White House for a candid roundtable conversation with First Lady Michelle Obama about her Let's Move campaign and what it's like to be a modern mom. Michelle Obama shared everything from her fashion motto to her first lady fitness routine during the discussion. Talk turned to any restrictions she and President Barack Obama put on their daughters, Sasha and Malia, in terms of what TV they are allowed to watch, and Michelle revealed that she tries to find the lessons in everything — even the Kardashians. Michelle said,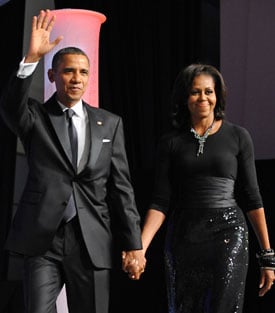 "Barack really thinks some of the Kardashian — when they watch that stuff — he doesn't like that as much. But I sort of feel like if we're talking about it — and I'm more concerned with how they take it in, what did you learn when you watched that? If they're learning the right lessons, like, that was crazy [laughter], then I'm OK. So it requires a lot — it is the reality of where they are."
Watch for lots more from our visit with Michelle at The White House!