Michelle Williams Golden Globes Press Room Quotes
Michelle Williams Gushes About Matilda, Her Funny Friends, and Marilyn in Globes Press Room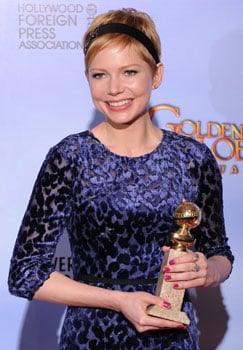 Michelle Williams finally won her first Golden Globe award for her work in My Week With Marilyn, and after her extremely sweet and touching acceptance speech, she stepped back to the press room. Michelle continued the lovefest for the people in her life, talking about being inspired by the faces of her friends and of course by daughter Matilda. Check out the quotes:
On who she shares the honors with: Oh my goodness, so many people, how much time do we have? You realize when you find yourself in this very lucky position, you're not there alone. It's endless. There's too many. My family, the people I worked with, the driver who listened to two months of vocal warm up on the way to work every day.
On the hardest part of the role: Sometimes I think the hardest part was just saying yes. Taking on that journey, that responsibility.
On Marilyn not getting nominated for The Prince and the Showgirl: I have tremendous fondness for that performance, of course I've watched it so many times, and while I think that film meanders and falls apart a bit but at the end, she's luminous. She's in a moment. Everything feels like it's happening for the first time. I think her comic touch was her greatest touch. She was honored by this organization numerous times.
On who she will be calling first: I'm going to call my mother.
On why Marilyn remains so iconic: People get so much pleasure from watching her.
On Matilda making her a better actress: Well, really I just hope to be the best mom that I can be. There is no part of my life that goes untouched by my daughter.
On her beauty icons: I suppose my friends, honestly. Their real, funny faces. Watching them move, change, get older, laugh, cry, change their haircut. They are my inspiration.
On taking on a real-life icon: I felt responsibility. I felt tremendous responsibility. Every other character has been in my head, only I know her, with Marilyn, it's a known quantity. That was new and terrifying.
On Ricky's hosting job: I've just been laughing. I haven't heard him make fun of me yet. Maybe my laughter will turn to tears, but right now I am very much enjoying it.