Michelle Williams and Jason Segel Break Up
Michelle Williams and Jason Segel Reportedly Break Up
Michelle Williams and Jason Segel have split, according to a new report in Us Weekly. They got together just over a year ago following an introduction from their mutual friend Busy Philipps. When Jason wasn't in LA, he spent a great deal of time in NYC with Michelle and her daughter Matilda.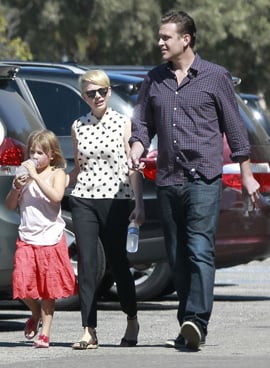 In March's InStyle, Michelle touched on her life with Jason. She said, "He is nice . . . I didn't actually realize who he was before I started dating him. I mean, I saw the Muppets movie, and I thought, 'Oh, that's cute,' but the truth is I didn't realize he made a lot of very popular, funny movies or was on a TV show. But maybe more important, I didn't realize he was so tall. I thought, 'Hey, man, you're cramping my style!' I tried wearing wedge heels for a while to compensate, but it wasn't me and I just gave up."
Michelle and Jason were snapped on a Mexican vacation along with Busy back in January, though he did not accompany her to any of her recent press engagements for her upcoming movie Oz the Great and Powerful.