Michelle Williams Talks About Heath Ledger in Newsweek
Michelle Opens Up About Heath
Michelle Williams has slowly been stepping back into the spotlight in the past few months, promoting her latest movies Synecdoche, New York and Wendy and Lucy, and she recently talked to Newsweek to help promote her films. The interview is both raw and sincere, with Michelle talking about living under a microscope and how she's handling Heath Ledger's tragic passing. Here's more: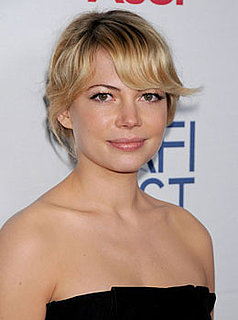 On having her personal life so exposed: "It's such a funny line to walk as an actor," Williams says. "There's some great quote I think Dustin Hoffman gave when he was doing 'The Graduate': 'The more you know about me, the harder my job is'."
On Dawson's Creek: "When I was on 'Dawson's Creek,' I wanted to make work that meant something to people, serious work that made people less alone in the world. And I was thinking about that this morning in the shower—'Dawson's Creek' meant something to people."
On how she's handling Heath's death: "It's so sad. I guess it's always changing. What else can I say? I just wake up each day in a slightly different place—grief is like a moving river, so that's what I mean by 'it's always changing'. It's a strange thing to say because I'm at heart an optimistic person, but I would say in some ways it just gets worse. It's just that the more time that passes, the more you miss someone. In some ways it gets worse. That's what I would say."
The interview must have been a difficult one for Michelle, but the strength and wisdom she's shown over the past year really shine through. Having Matilda and Spike Jonze in her life are hopefully helping Michelle find happiness in both her personal life and her career.