Miley Cyrus Bikini Photos in Hot Pink In Miami, Miley Cyrus Tattoo Photos
Miley Heats Up Miami in Her Pink String Bikini and New Tattoo?
Miley Cyrus slipped into a hot pink bikini and planted herself right in the sun in Miami today — is that a new tattoo we spot? She talked about getting some ink with her brother, and it looks like she might have gone with getting "just breathe" written in cursive. She laid out by the pool and chatted with her friend who took a dip. Miley's still a teenager, but she's already asserting herself among the most bikini-loving ladies in Hollywood. Miley spent most of her 2009 on stage performing her hits and now the newly-17-year-old star has some downtime before heading to the UK for a series of shows this month. In the new year she'll be out to promote her big screen venture, The Last Song — ICYMI, check Miley out in the trailer.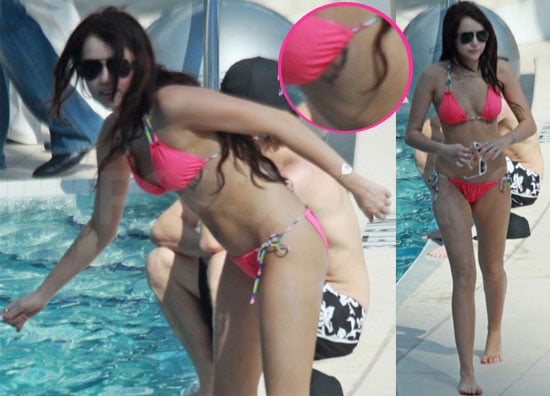 More photos of Miley lounging by the pool so read more.