As 18.5 million viewers tuned in to watch The Sound of Music Thursday, a handful of funny celebrities chimed in via Twitter on everything from Carrie Underwood's real favorite things to how the NBC program has inspired new projects. Our favorite tweet might just come from Mindy Kaling, who fancies herself the next Audrey Hepburn. In other hilarious celebrity tweets, Lena Dunham inadvertently approached a couple with a naughty proposal and Anna Kendrick showed us why she should start writing Brad Pitt and Angelina Jolie fan fiction.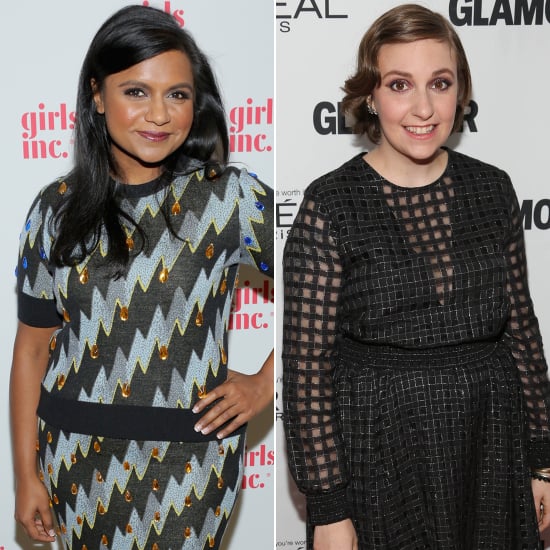 Check out all that and more in our favorite funny tweets from the week!
Mindy Kaling and Rainn Wilson are determined to follow in Carrie Underwood's footsteps.
"@rainnwilson: .@NBC Hey, I'm up for doing Pippen!" I told you, we're doing My Fair Lady. You're Henry Higgins, Helms is Colonel Pickering.

— Mindy Kaling (@mindykaling) December 6, 2013
We can totally picture Brad Pitt singing "Do-Re-Mi" with his troupe.
Maria is really the Brad Pitt of this relationship #SoooManyChildren #SoundofMusic

— Anna Kendrick (@AnnaKendrick47) December 6, 2013
Lena Dunham is having a quarter-life crisis.
Just saw a teenage couple rolling on the ground, the boy moaning in pain. Asked if they needed help and they bolted. And so it begins...

— Lena Dunham (@lenadunham) December 3, 2013
Finally, here's that elusive cure to your morning regrets.
My college hangover cure: 2am eat two Philly cheesesteaks. 9am alka-seltzer. Cool shower. You're welcome. Go to class.

— Elizabeth Banks (@ElizabethBanks) December 5, 2013
Somewhere, a publicist is searching for Hedwig.
I just checked my voicemail for the first time since June. You're better off sending me a note via carrier pigeon.

— olivia wilde (@oliviawilde) December 2, 2013
Um, this would be amazing. One question: where would "Two Pina Coladas" fit in?
I can't wait to watch Garth Brooks in "The Shawshank Redemption Live"

— Kat Dennings (@OfficialKat) December 6, 2013
Neil Patrick Harris's gaydar is still intact.
I'm relieved to know that all of my panting over @TomDaley1994 at the Summer Olympics wasn't completely misguided.

— Neil Patrick Harris (@ActuallyNPH) December 2, 2013
Give me the thing that I love — turn festive lights on.
What do you call it when @ladygaga claps for St. Nick? Santapplause. #ClassicHolidayJokeWednesday

— Ellen DeGeneres (@TheEllenShow) December 4, 2013
Read the rest of the funny tweets below!
Ouch, Joan.
The Sound of Music Live is tonight and Carrie Underwood's "favorite things" should be people who haven't seen Julie Andrews in the original.

— Joan Rivers (@Joan_Rivers) December 5, 2013
Sarah Silverman is researching the origins of an old tradition.
Is this where fucking the nanny started #SOML

— Sarah Silverman (@SarahKSilverman) December 6, 2013
Bette Midler is raising awareness about delivery drones.
Amazon wants to use drones to deliver same-day parcels. I can see headline now, "Man accidentally killed by copy of "Who Moved My Cheese?"

— Bette Midler (@BetteMidler) December 5, 2013
Seth Rogen received your love letter; he just didn't read it.
I have over 6000 unread emails. I hope there's nothing important in there. pic.twitter.com/2YBybRlE2A

— Seth Rogen (@Sethrogen) December 5, 2013
Jimmy's starting to sound like a dad.
Are you really a "dreamer" or do you just sleep a lot?

— Jimmy Kimmel (@jimmykimmel) December 2, 2013
Chuy to the rescue!
Mike Tyson is on my show tonight. #extra security

— Chelsea Handler (@chelseahandler) December 2, 2013
Capitol Hill might smell like Dark Temptation.
TONIGHT: A new Republican plan to attract women. Can 80-year-olds pull off Axe body spray? @ColbertReport, 11:30 p.m.

— Stephen Colbert (@StephenAtHome) December 6, 2013
Nicole's face is priceless.
Nothing's worse than running into your ex at a party... Until you run into your dad at a party.......… http://t.co/b4AqU3Rl20

— Nicole Richie (@nicolerichie) December 5, 2013