Mindy Kaling Tweets About The Mindy Project
The Funniest Celebrity Tweets of the Week
More and more celebrities are using Twitter as a platform for their quips. In this week's edition of the funniest celebrity tweets, Anna Kendrick tells us about her texting close call, Michael Ian Black has a strange request for the person who stole his computer, and Mindy Kaling gives props to a fellow comedic actor. Check out all that more in another side-splitting week on Twitter.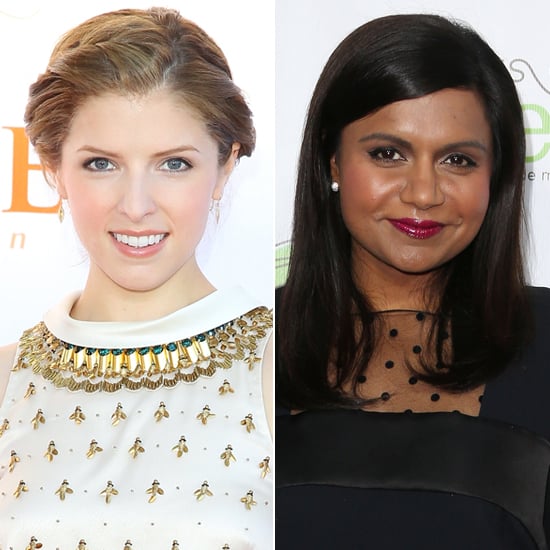 This is almost as euphoric as waking up and not finding an empty pizza box in your bed!
Ultimate euphoria: waking up and realizing you DIDN'T send that text.

— Anna Kendrick (@AnnaKendrick47) August 22, 2013


Maybe they were all crying on the inside because they were so jealous?
today i brought a brown bag lunch from home to my photo shoot & all the fashion people laughed at me. how was your day?

— Jenny Wade (@jenny_wade) August 20, 2013


Am I the only one feeling a really strong sense of deja vu right now?
I've said it before and I'll say it again: I've said it before.

— Chris D'Elia (@chrisdelia) August 20, 2013


Check out the rest of our favorite tweets this week when you read on!


In my experience, 3-month-old puppies really know how to hold a grudge.
"Are you mad at me?"-me to my 3 month old puppy just now, dead serious

— Whitney Cummings (@WhitneyCummings) August 20, 2013


I think I saw it hanging out with mine at McDonald's? Inhaling an Oreo McFlurry?
Has anyone seen my will power?

— Mark Duplass (@MarkDuplass) August 21, 2013


Well there goes my good night's sleep tonight. Thanks, Sarah Silverman.
Panicking about whether my "emergency contact" is dependable is how I like to spend my free time

— Sarah Silverman (@SarahKSilverman) August 20, 2013


Michael Ian Black sure knows how to find the silver lining.
If you're the one who stole my computer yesterday, can you please finish the book I'm writing? Thanks in advance.

— Michael Ian Black (@michaelianblack) August 22, 2013


Diablo Cody's right! Where's the pop anthem about 50th anniversaries and old people sex?
90% of pop songs are written about shit that happens during the first three months of a relationship.

— Diablo Cody (@diablocody) August 21, 2013


THE HORROR.
I just accidentally brushed my teeth w my grandmothers cortisone cream

— Chelsea Peretti (@ChelseaVPeretti) August 22, 2013


We're less interested the breaking and more interested in G-string tear wiping.
@adampally sorry I kept breaking in the scene where you wipe my tears away with a g string. You're just super funny

— Mindy Kaling (@mindykaling) August 22, 2013


If you don't think Busy Philipps is living a perfect life, you're wrong.
My episode of Top Chef Masters airs tonight! If you're into watching a pregnant girl eat a lot of delicious food you should check it out!!

— Busy Philipps (@Busyphilipps25) August 21, 2013


To be honest, I'd rather play "cupcake and then text him." Or vice versa.
Girls! It's time for a round of our favorite game CUPCAKE OR TEXT HIM! Sheila get back here

— Julie Klausner (@julieklausner) August 20, 2013