Miranda Kerr in a Bikini With Flynn | Pictures
Miranda Kerr Goes Glam With Vanessa Hudgens After a Bikini Getaway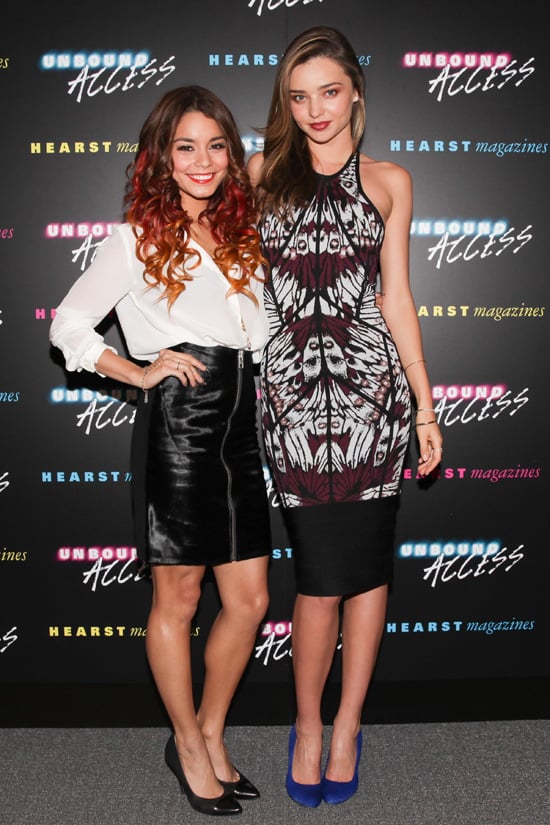 Miranda Kerr stepped out in a printed Hervé Léger dress and bright blue heels on Tuesday when she dropped by the Unbound Access event in NYC with Vanessa Hudgens. Earlier in the day, the busy mom popped on a trench coat and carried a Prada bag as she visited the Cosmopolitan office and posed with her cover after enjoying a bikini-filled getaway over the weekend.
The model shared snaps of the trip to the seaside with son Flynn on Instagram yesterday, writing that it "was such a beautiful weekend by the ocean." In one photo, Miranda relaxed in crystal-blue waters while wearing a patterned bikini, and in another picture, she held onto her little man while staring off into the distance. While the model momma was careful not to reveal where she was headed over the holiday weekend, she and Flynn were back in NYC by Monday, and Orlando Bloom was spotted playing with Flynn during a walk in the Big Apple.
Miranda's vacation comes after a big push of work for the supermodel. She landed on the cover of the November issue of Cosmopolitan and recently traveled to the City of Light to walk in several shows during Paris Fashion Week.