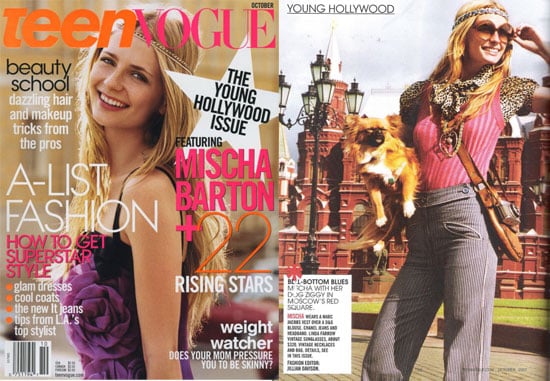 Mischa's been a busy girl these days. Besides hitting all the best shows at Fashion Week, she just signed on to do another movie called Walled In. She also snagged the cover of Teen Vogue. Mischa went totally boho chic in the October Young Hollywood issue and even adorable Ziggy got to make an appearance! The photoshoot shows Mischa looking beautiful around Russia, where she was working on her movie Finding t.A.T.u.. In the past, Mischa has talked a lot about straying from the trends of some other starlets in show business, and in the article she discusses the responsibility that goes along with being in the public eye. She said,
"All young people are difficult. But consider someone who's in a position of real fame, with people throwing things at her. If you're not really grounded, I can see how you can get so messed up. It's important to be cool with everyone, but also to do your own thing. Because you have a certain amount of responsibility once you're in the public eye."
Mischa hasn't always been the picture perfect image of young Hollywood, but she is definitely one of the more grounded starlets we've seen lately and hope she continues to stay level headed to keep her future looking bright.
More of Mischa in Russia so just