Modern Family Cast Quotes at SAG Awards Press Room
The Modern Family Crew Talks Underwear and Life After Fame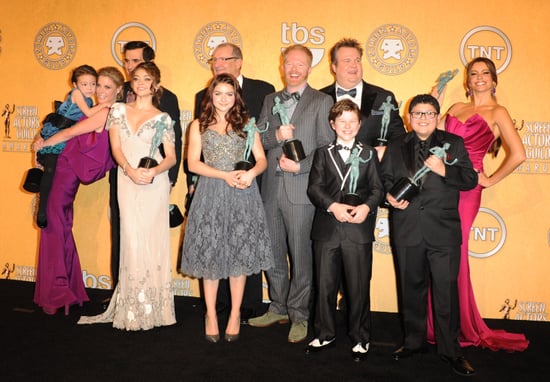 The cast of Modern Family swung by the SAG Awards press room after wining their best ensemble comedy award tonight. The acting family chatted about the win, and Rico Rodriguez and Nolan Gould continued to lead the conversation even backstage. They spoke about what they've learned from being a part of the show and each other, and Sofia Vergara cleared up rumors that she forgoes undergarments underneath her gowns. Here are some highlights:
Rico on how he knew Nolan before the show: "Actually, me and Nolan were in the same acting class when we were going out for Modern Family, so it was really cool seeing each other every week and saying, 'We're getting really close to it!'"
Nolan on what he's learned from his older castmates: "I have learned lots of curse words from them."
Ty Burrell on adjusting to their success: "I'll go with unbelievableness. I'll go with that word. Yeah, I think for most of us in this situation, this exceeds the best-case scenario, because it's a show that the country seems to really be liking . . . I can't imagine a better job and I'm absolutely sure I speak for everyone."
Sofia on if she skipped undies tonight: "No, I always wear underwear! It's just that they're very tiny and you could say there's almost no underwear, but there is underwear."
Julie Bowen on how fame has changed her: "I've stopped beating my children in public."