More Inside Britney and K-Fed's Split
More Inside Britney and K-Fed's Split
Every weekly magazine out there is reporting on Britney's split, and now Britney's favorite magazine is getting their chance to dish details on the divorce. Apparently both Brit's family and K-Fed's were completely surprised, so much so that one of Kevin's buddies is saying it's just postpartum depression. Interesting... depressed is the last thing I'd call Brit. The girl hasn't looked better in years! People reports: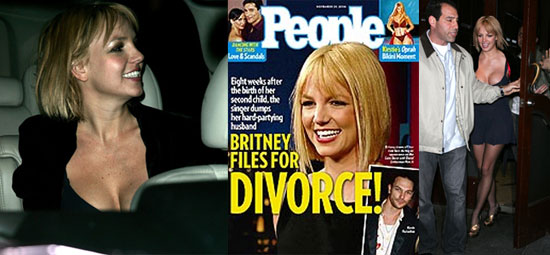 "She tried to support him as much as she could, but at the end of the day she realized it wasn't best for her and her children (to stay)," someone close to Spears tells PEOPLE in its upcoming cover story. "She's standing up for herself and making positive changes in her life." (The couple have two sons: Sean Preston, 1, and Jayden James who was born on Sept. 12.)

"As far as I knew they were perfectly fine," says Michael Prescott, a family friend from Kentwood, La., Britney's hometown. "I talked to Miss Lynne (Britney's mother) just the other day and she said Britney and Kevin were going to take a vacation trip together to Hawaii, just get away from everything for a few days."

The announcement "came as a total surprise," says a Federline pal. "We're all in shock. (We're hoping) it might just be that she's feeling a lot of postpartum emotions and this is something that will blow over." Yet sources who spent time with Federline in New York City the weekend before Spears filed for divorce say it was obvious something was seriously wrong. Both Spears and Federline were in Manhattan, ostensibly for a concert and party for his album, "but they didn't spend any time together," says one source. "Britney stayed at the Regency Hotel, he stayed at the Doubletree. And she didn't come to his record release party at (the nightclub) Stereo."

By the time a solo Federline arrived in Toronto Monday "he looked pretty depressed," says a photo agency rep who was with him.
Click here to check out People's Brit and K-Fed watch, tracking the couple minute by minute since the split. More pics of Brit simply looking fabulous so read more