More Kids for Demi & Ashton
More Kids for Demi & Ashton
Demi, Ashton and Tallulah Belle were caught out in Beverly Hills last night. The happy family looked a bit beat as Demi tried to avoid the cameras however, she looks amazing as usual in the pages of VF. In the article she talks about wanting more kids and being an overprotective parent. Here's more: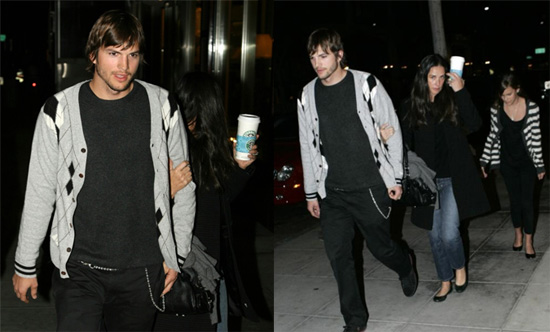 "Most definitely," she tells Vanity Fair when asked whether she wants children with Ashton Kutcher, 28.

Of course, being a mom to teens can be a handful, especially when your oldest daughter starts hanging out with Lindsay Lohan.

"I'm definitely a bit overprotective, maybe because I have girls," Moore says. "When they go out, I have them check in continually the entire night. ... The fact that they are happy to check in and let me know how they are and where they are, that they don't see it as a drag, is a real gift."
Ashton also is really protective over the girls. He's warned Rumer to steer clear of Lindsay because he knows she's a bad influence. These two should have no problem handling a few more kids. For more pics just read more