Most Go Glam, Beyonce Goes Reflective for BET Awards
Start Slideshow
ADVERTISEMENT ()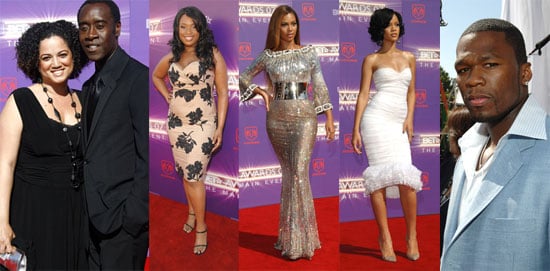 0
Most Go Glam, Beyonce Goes Reflective for BET Awards
LA's Shrine Auditorium played host for the 2007 BET Awards last night and, of course, the red carpet played host for all the glamorous looks. Most egregious of the night: Beyonce's silver Dolce & Gabbana mess. I mean, I know metallic is in and all and I do love me some B, but this was a bit aggressive. Meanwhile, Rihanna looked stunning. You know, not to compare them or anything. Fresh from his new, exciting movie news, 50 Cent was beaming as he stood out among the beautiful ladies. Check back later to see pics from the actual show and learn who went home with shiny (but not 'Yonce dress shiny, of course) little statues. Until then, what do you think of all the red carpet looks?
To see a ton more pics of the red carpet, including Reggie Bush, Queen Latifah, Kelly Rowland, Chris Brown and a ton more just
Images include Beyonce, Kelly Rowland, Michelle Williams, Rihanna, Reggie Bush, Queen Latifah, Lil Kim, Jordin Sparks, Don Cheadle, Brigid Coulter, Alicia Keys, Jennifer Hudson, Eve, Al Sharpton, Ciara, Eva Pigford, Bone Thugs-N-Harmony, Tanika Ray, Brian McKnight, Bootsy Collins, Bow Wow, Chris Brown, Chandra Wilson, Chamillionaire, Tracey Edmonds, and Tia Carrere.