Naomi Stays Positive Despite Her Many Assault Charges
Naomi and Tyson took turns being naked in their shots for a new Pirelli ad campaign. She was obviously in a very calm mood for the shoot. Now she has more to be happy about. British prosecutors have decided not to charge her with assault for an alleged incident with one of the many women who claim Naomi hurt them. Despite being charged with assault multiple times, Naomi says that the claims are just exaggerated. She says: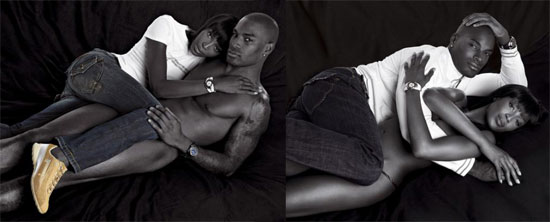 "It's been really like a tough year in terms of like the accusations and stuff like that. It's been very hurtful and blown out of proportion," she says. "But I can't stop getting on with my life. ... I can't pay too much attention to this negative stuff. I don't like to live in the negative. I like to stay in the present moment and stay positive."

She adds, "I have to be very careful who I'm around, what I say, who's around me. I cannot be with someone on my own any more because I don't know the agendas that people have. I've had to learn from my mistakes but I don't harbor grudges."

Looking ahead, she says, "I just want to have my health every day and my family's health. I'm happy right now. I know not every day's going to be great. I don't drink, I don't do drugs anymore and I feel great about that."
But she isn't quite off the hook yet. Next month she's due back in court for throwing her cell phone at her maid over a pair of jeans. Tyson's lucky he got out of the Pirelli shoot unscathed. For more pics of the two just read more