National Board of Review Awards Bring Out the Big Shots
Start Slideshow
ADVERTISEMENT ()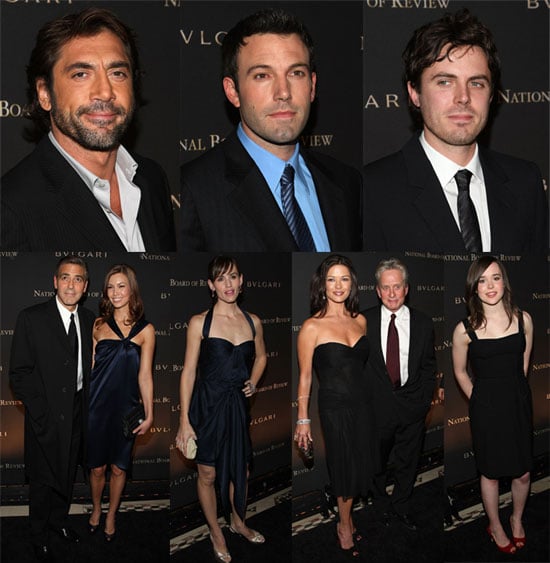 0
National Board of Review Awards Bring Out the Big Shots
Well, we jinxed it. Sorry folks. Just when we thought Sarah Larson was no longer in the picture, Clooney shows up with her on the red carpet at the 2007 National Board of Review Annual Awards Gala last night in NYC. George was there to take home Best Actor honors for Michael Clayton. The Garner-Afflecks were there for Ben's big Best Directorial Debut award but the couple walked the red carpet separately as always. So much for settling in on the west coast. Brand new dad, Casey Affleck, came to take home his Best Supporting Actor award while adorable Ellen Page picked up Breakthrough Performance by an Actress. The big honor of the evening went to Michael Douglas who claimed the Career Achievement Award. Hate to say he looks to be about the ripe age to get it but at least he's got Catherine to keep him young.
For lots more fabulous pictures of these folks and Tim Burton, Denzel Washington, Josh Brolin and more just
Images include: Ben Affleck, Casey Affleck, Catherine Zeta Jones, Denzel Washington, Diablo Cody, Ellen Page, Emily Mortimer, George Clooney, Sarah Larson, Javier Bardem, Jennifer Garner, Josh Brolin, Jurnee Smollett, Michael Douglas, Tilda Swinton, Tim Burton, Jesse L. Martin.