New Moon Takes Comic-Con by Storm
After waiting in line for three hours, we finally made it into the New Moon panel at Comic-Con! It was definitely worth the wait, and Rob, Kristen, Taylor, and Ashley were rewarded with plenty of screams and shrieks from their waiting fans. We got to check out two new clips from the movie — in the first, Kristen's character Bella rides a motorcycle for the first time (though she assured us she didn't do her own stunts). The second was the big moment you've all been waiting for — that's right, the shirtless Pattinson scene in Italy! Believe us, you will not be disappointed. Rob was adorable as he showed off a wide range of facial expressions when answering questions from fans, while Taylor seemed to eat up all the attention. Here are a few other highlights from the Q&A: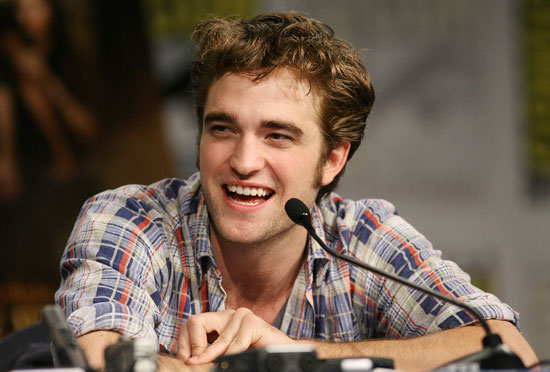 Rob on how shooting New Moon was different from Twilight: "It was different doing this because of the aesthetic which Kris shows. Edward's whole character is obviously about restraint. I found it difficult to incorporate movement into the character. In New Moon, a lot of the shots are set up for as little movement as possible which helped. It was always camera movements that drove scenes . . . and now I'm making it sound like I just stood there."
Taylor on whether or not he's like Jacob: "I'm more like Jacob's pretransformation side. Because that's before he goes wacko. I hope I'm more friendly and outgoing than this dark disturbed person, this monster. Actually, I don't think he's a monster."
To read lots more from Rob about playing Edward and whether or not he'll ever take on comedy just read more.
Rob on whether or not playing Edward has changed him: "At the end of the day, it's just a part, you're going to do it. You're walking down the street . . . this is a really bad analogy . . . you step on a little stone, you don't know where it's going and you're trying not to drown afterwards. That was really terrible wasn't it?"
Kristen on how Bella changed from Twilight to New Moon: "I don't think you really truly know yourself until you get to a point as low as this. She's so sort of righteous in the first one. Now you believe that she knows what she wants. And I feel like in the third one, she's content and happy and can rest easy. In this one, it was a larger scale for me — I played an insane person."
Rob on whether or not he'd like to do more comedic roles like How to Be: "Why not? But I don't know if I'm particularly funny. One of my legs is shorter than the other one, so it makes everything look awkward. I can look like an idiot, but I don't know if I can be witty."
Taylor on filming in Portland vs. Vancouver: "Both are cold and wet. I mean they're beautiful, but it's just not fun not wearing any clothes there."