New York City Marathon Security
In Response to Boston, NYC Marathon Tightens Security
The marathon returns to New York City this weekend, but not without added security — a million dollars' worth. This comes in direct response to the deadly Boston Marathon bombings that happened earlier this year: those bombings killed two and injured hundreds more.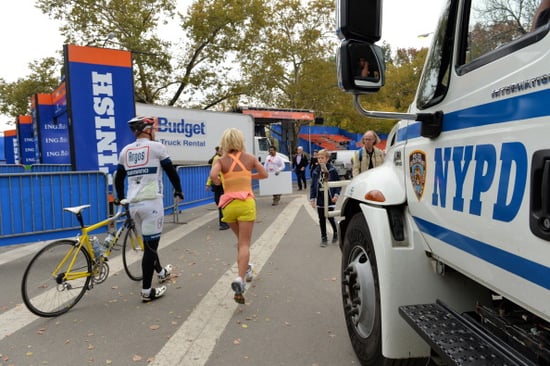 At a press conference on Friday, New York City Police Commissioner Raymond W. Kelly told reporters that every inch of the marathon course would be monitored. The huge undertaking will involve police, private security, scuba divers, helicopters, video surveillance, and bomb-sniffing dogs. Of all the protective measures being used, most of the attention is being focused on video surveillance.
Kelly explained that in addition to the 6,000 police cameras that will be monitoring the race in real time, there will also be 1,400 cameras from the private sector in use. During the Boston Marathon, storefront cameras were key in identifying the suspects. In addition to these cameras, helicopters will also be filming the race from above. Bomb-sniffing dogs will be on the ground during the event, along with uniformed and plainclothes police, as well as counterterrorism officers. In the water, boats and scuba divers will be protecting waterways and also checking for underwater explosives and other threats.
Runners will also undergo security screenings, and several items including strollers, backpacks, and coolers are prohibited from marathon venues. Mary Wittenberg, president and chief executive officer of New York Road Runners, is also encouraging spectators to stay clear of the finish line. Security will be heightened there, and anyone in the area can expect to have his or her bag searched. Despite these added measures, Wittenberg is encouraging family and friends to meet up with race participants at a location outside of Central Park.