Nick and Vanessa Hot in NYC
Nick and Vanessa are in NYC and apparently they were all over each other while partying at Butter in the comfort of the VIP club. However, earlier that day it was Vanessa who was all over Nick but he would not give up the kiss she was hoping for. Click here to watch Vanessa try so hard for some PDA. As for their night at Butter, People reports their night, song by song: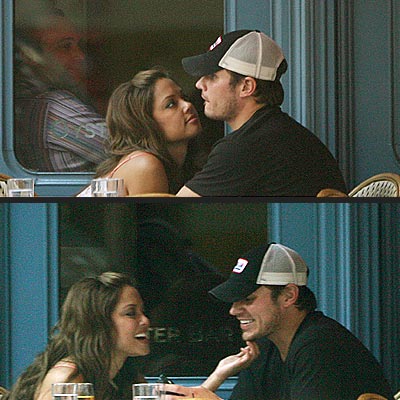 Lachey, in jeans and a button-down shirt, and Minnillo, in a red dress, began the night chatting in their booth with Russell Simmons before Minnillo danced on the banquet to Shakira's "Hips Don't Lie" and "Gasolina."

When Jay-Z's "99 Problems" came on at around 12:45 a.m., Minnillo indulged Lachey in what would be the first of several lap dances.

Shortly thereafter, she was up on the banquet again, dancing with Jamie-Lynn Sigler to the Jackson 5's "Want You Back" and "Sweet Home Alabama."

When Justin Timberlake's "SexyBack" came on, Minnillo settled into Lachey's lap and sang it to him. But the song that Lachey enjoyed the most was the Rocky theme, "Eye of the Tiger," which got him waving his arms and moving his head to the beat.

Later, Lachey did shots with Wilmer Valderrama, who was holding court with friends including Erika Christensen.

Finally, Lachey and Minnillo left at 3 a.m., holding hands.