Nick's Not so Happy Birthday Bash?
Nick's Not so Happy Birthday Bash?
Nick and Vanessa spent all weekend celebrating their same birthday with several parties. The two dined at Koi last week, and then jetted off to Vegas to party over the weekend. But the weekend doesn't sound like it was as much fun for Nick as it was for Vanessa. TMZ reports: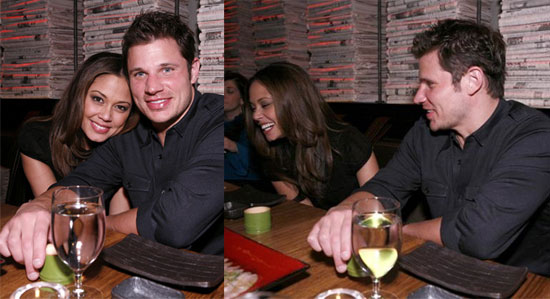 The couple continued their never-ending birthday celebration in Sin City, where Vanessa and seven of her closest friends met up for a night of fine dining and fun. First stop was TAO Bistro, where the group dined on Chilean sea bass, satay chicken, pad thai noodles and some good 'ol Kobe beef. Afterward, the ladies headed upstairs to TAO nightclub, where Nick joined them around 1:30 AM. No word on why Nick missed dinner, but from the look of the pictures, Lachey wasn't in a party mood.

Vanessa seemed to be affected by Nick's bad mood -- she wasn't having as much fun as she'd been having with her chums prior to his arrival. Two hours later, the couple headed out, with Nick avoiding photogs by hiding behind two gigantic bodyguards.
Poor Nick, but he doesn't look so sad in these pics. Maybe he's just reflecting on his upcoming Jessica divorce anniversary. More pics from the birthday bash so read more