Nicole Celebrates Memorial Day By Being Obnoxious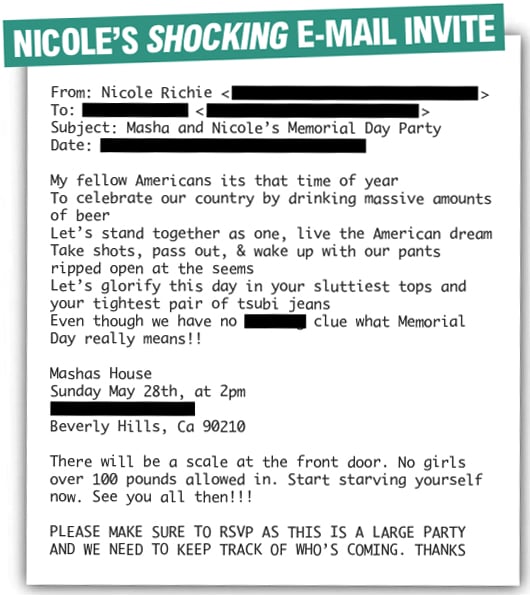 0
Nicole Celebrates Memorial Day By Being Obnoxious
Before things got seriously crazy this weekend, two starlets calmly grabbed some coffee in LA. This was before Lindsay DUI-ed and went back to rehab, before Mischa was in and out of the hospital under shady circumstances, but presumably after Nicole Richie sent out an invitation for her Sunday afternoon Memorial Day BBQ, thrown with her friend Masha. Her email invitation somehow leaked and let me just say, the girl knows how to write a completely ridiculous party invite (see the whole thing here). She coaxed people to her friend's place to "glorify this day in your sluttiest tops and your tightest pair of tsubi jeans, even though we have no [bleeping] clue what Memorial Day really means!!" Wow, and that's not the end of it. She added, "There will be a scale at the front door. No girls over 100 pounds allowed in. Start starving yourself now." Here's what her publicist had to say in response:
"This invitation was sent via email to her friends who understand that she was responding in a joking manner to the constant untruths printed about her in the media. Her reference to Memorial Day was in no way meant to offend anyone but was simply an expression of her distaste for the current situation."
A joke, eh? She's got quite the sense of humor. But really, I sincerely doubt that "mocking the media" was Nicole's original intention, but nice try spinning that one, Nicole's rep! Sarcastic or not, things are clearly teetering on the edge of disaster for the starlet set. I just hope it doesn't take anything scarier than what happened this weekend to snap them out of it.