Nicole Hopes She's Not Treated Like Paris in Court
Nicole Hopes She's Not Treated Like Paris in Court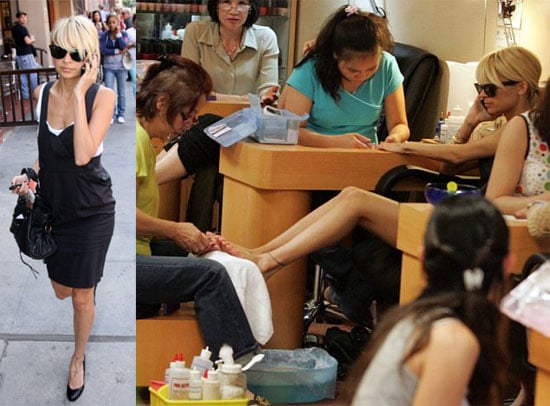 0
Nicole Hopes She's Not Treated Like Paris in Court
After a long weekend of parties and friends dropping like flies, Nicole stopped off for a little mani/pedi action in Beverly Hills. Unfortunately Nicole got in a little trouble for leaving her car illegally parked outside the nail salon. It was obviously no sweat off Nic's back, though, as she didn't budge when the cop came in to talk to her about the situation. What's a little ticket to a Hollywood starlet? Also, this morning, Nicole went on Seacrest's morning show to talk a little about Paris and a little about that controversial party invite. Here are highlights:
On Paris' Jail Time: "Of course [Paris] is" scared. [Paris was treated] really unfair. I don't know if she necessarily could have done anything to stop that. I think sometimes people just get exploited and I hope that doesn't happen to me … I don't think there's anything I can do to stop that."
On the party invite: "I do it for every time, for every single holiday … I don't' even know what to say about it, especially someone like me, I'm not a serious person at all and no one thinks I am, so I'm really confused why people think [it is serious]."
While I doubt most people think that Nicole was really planning on having a scale at the door, I still don't think the invite was in particularly good taste. As for her day in court for her DUI? It's coming up June 8, so I guess we'll get to see whether Paris' sentence (or "exploitation") has set any sort of precedent after all. My guess though, Nicole won't be serving any sort of hard time.
More pics of Nicole prettying up her nails, so just