Here we go again... more reports that Nicole is pregnant. The poor girl can't catch a break, but if it's true then congrats to the newlyweds. Apparently Nicole told Keith the fabulous news while visiting him at the Betty Ford Center after 2 home pregnancy tests confirmed she was pregnant. So what is the NE doing - going through Nicole's trash? Here's more: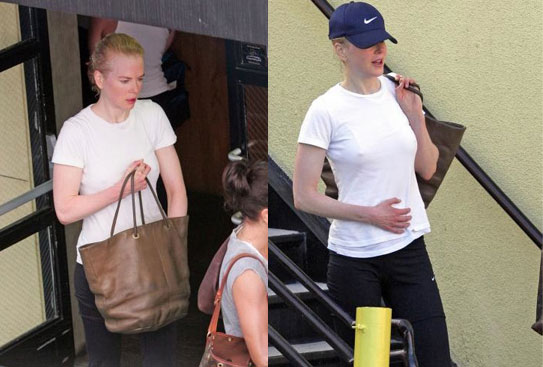 Nicole Kidman is pregnant — and she broke the news to hubby Keith Urban at the Betty Ford Center in Rancho Mirage, Calif., where he's in rehab, The ENQUIRER can reveal exclusively.

Two home pregnancy tests confirmed the 39-year-old actress is expecting her first child, sources say — but, ironically, her four-month marriage to country crooner Keith, 39, is in serious jeopardy. "Nicole's dream of having a child finally came true when two home pregnancy tests came up positive," an insider tells The ENQUIRER.

"But she's devastated that Keith lied to her about kicking his addictions to booze and cocaine. She's hoping the baby will save their relationship."

"Keith was happy, but uneasy, about the news," confided the insider. "He knows how desperate Nicole has been to have a baby, but the timing couldn't be worse for him."
Take it for what it is worth people. We have been seeing photos like this one from a couple of months ago of her holding her belly all summer long and still no significant bump.