Nicole Kidman Wants to Make More Movies For Kids
Nicole Is Still Golden in Tokyo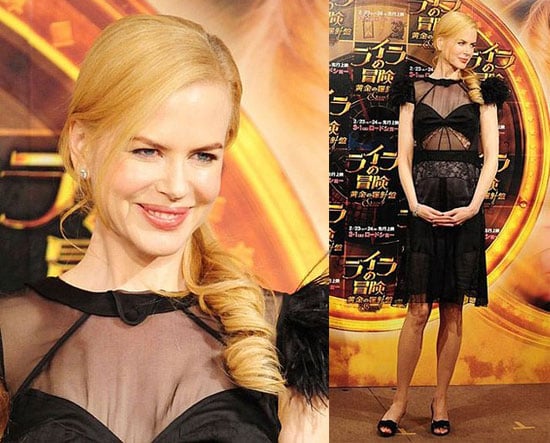 0
Nicole Is Still Golden in Tokyo
Nicole may be five months pregnant, but there was hardly any hint of a bump under her crazy-looking dress at a press conference for The Golden Compass in Tokyo today. Once the baby arrives there will be lots of big changes for Nicole of course, including the kinds of projects she will be tackling. The mom-to-be said that having children helps her look forward to taking on more kid-friendly films like this one. She said,
"My Bella and Connor are 13 and 15. So they have seen the film and they loved it . . . my child inside won't see the film for a long time. But I think once you have children you want to balance the work you do because they give up so much of you to your work. So occasionally you want to make films that they can take their friends to, they can go to the premiere of, that they celebrate."
Nicole will have plenty to celebrate later on in the year, but right now she's still focusing on her latest film, including this weekend where she'll be cheering on her Golden Compass live from the audience at the Oscars.