Nicole Pregnancy Rumors Continue
Nicole may not have loved being asked about Keith but she continued to enjoy the success of Happy Feet and put a smile on at the film's premiere in London. Now reports are still circulating that she will soon be hearing the pitter-patter of little happy feet of her own. And evidently, she's not keeping the pregnancy a secret. Here's more: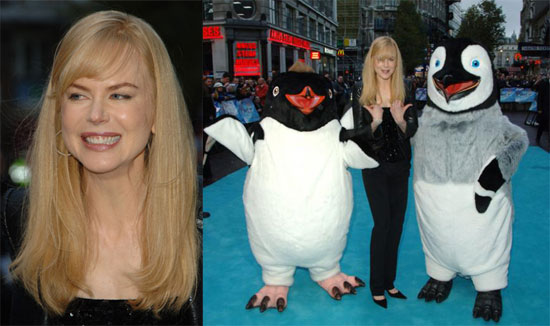 The Aussie, who wed country singer Keith Urban six months ago, proudly showed off her bump this weekend. She is expected to make an official announcement shortly.

A source said: "Miss Kidman certainly isn't hiding the changes in her body now and seems to be very comfortable with them. Any woman seeing her now up close can't help but notice she is a mum-to-be."

Nicole has been staying at the Dorchester Hotel in London while filming Philip Pullman's The Golden Compass at Shepperton Studios.

The insider said: "She has been staying there on and off for a while. When she was first there a few weeks ago, she was more active in terms of exercise.

"This time, though, she is taking it easy and just has gentler treatments more in keeping with her new condition."
Didn't we just write about this three weeks ago when she told Keith the good news while visiting him in rehab. I don't really see any bumps here. She still looks pretty thin to us! I guess it's hard to tell since she's wearing all black. But we have heard these rumors about Nicole being pregnant every other month for over a year now so it's hard to believe. For more pics of Nicole's belly just read more