Nicole Richie Has Lots To Love About 2008
Nicole Richie and Benji Madden piled on the black and white for a trip out around town yesterday. Since breaking up with Paris, Benji's been playing the third wheel with Nicole and Joel, but it doesn't look like Nicole minds much to spend time with the other Madden twin. It's been quite a year for Miss Richie and she's the first to talk about how wonderful it's been. She recently talked about her year with Harlow and more: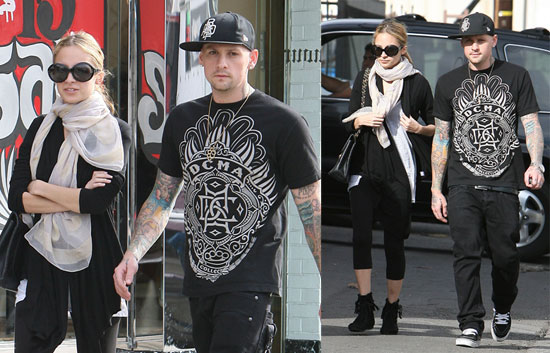 On the highlight of her year: "Obviously, the birth of my daughter is the best thing ever...Just in general, it's been a really great year for me. Everything's just kind of coming together. All of my dreams are becoming a reality."
On Harlow's fashion sense: "She likes to dress up. You can see it in her face. She just loves dressing up; she loves putting on tights and bows and stuff like that...I'm not too caught up in her fashion at the moment. I just let her wear what's comfortable for her. But she loves those tights."
On life without paparazzi: "I would take Harlow to the park. I feel that sometimes I don't get to do everything that I want to do with her," she says softly. "But you know what? I'm not complaining at all. She has a really great life. My life is what it is, and people have it a lot worse than me."
Joel's a new favorite and Nicole keeps getting better. It's nice to hear that Nicole appreciates where she is ready to raise her little girly girl and rumor has it she's enlisted the help of Rihanna to get ready to finally put out her first album.