Nicole Richie Shows Off Harlow Madden in Harper's Bazaar
Harlow Madden Scores Her Second Modeling Gig
Nicole and Joel introduced their adorable daughter to the world on the cover of People in February, and little Harlow must love the camera because she scored her second photoshoot, this time for Harper's Bazaar. She even let her parents and grandpa in on the fun for a shoot that took place at Lionel Richie's house in LA. Nicole hasn't hesitated to gush about her new life lately, and this interview was no exception as she talked about her career, Joel, and Harlow, Harlow, Harlow. Here are highlights: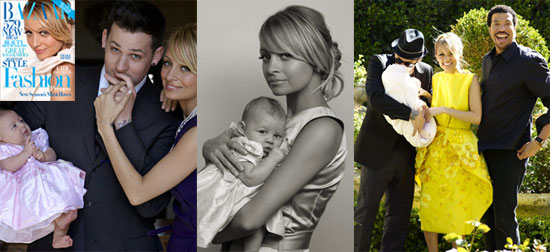 On what surprises her about motherhood: "Hmm, I would say how fun it is. Everybody talks about how difficult it is in the first three months, but I absolutely love it."
On Joel: "[He has] a different way of thinking. But at the same time, he's never tried to change me. And if anything, we were friends first. We just have fun together. When we're apart, we just get on iChat and don't even say anything to each other." She starts to giggle. "He likes to get girly sometimes. But he'd kill me if he knew I said that!"
On getting married: "One day, yeah — not tomorrow, not today. We are committed to our family. I'm 26. I've definitely had a very eventful year. So right now, it's about me enjoying my time with my daughter."
To see what else Nicole had to say about starring in Chicago and how motherhood has changed her, just read more.
On the Broadway rumors: "Doing musical theater really does take up your entire life. But I'm really excited to get out there and show people that I'm capable of doing something other than The Simple Life."
On Harlow getting into trouble when she gets older: "To be honest, it would completely break my heart if she got a tattoo."
On being a mom: "You know, I went through a stage of thinking that once you had a baby, you moved to Brentwood, had a white picket fence, and it changed your entire life. But I love where I am right now. Every single thing is for Harlow. Joel took me out last week, and he was like, 'Why don't we go out and have a shopping day?' But I ended up only going to kid stores. I didn't get to buy shoes or anything."
Nicole and Joel might not be ready to settle down as the most traditional parents in the world, but it seems like they have softened up a lot since welcoming their new addition. It will be fun to see if Harlow follows in her parents' trouble making footsteps, or blaze a brand new trail for herself. Either way, she'll have her mom and dad cheering her own as her two biggest fans. Be sure to check out more from the family's adorable photoshoot here.