Nicole Richie Treated For Dehydration
You know what that means..... E! is reporting that Ms Richie was hard at work on The Simple Life when she had to be treated for "dehydration." Here's more from E!: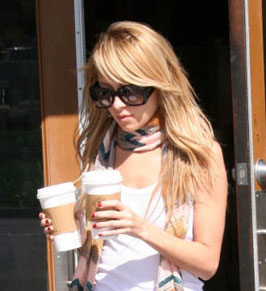 Richie apparently felt ill, was examined by an on-set doctor and then taken to a nearby hospital. She received intravenous fluids for 15 minutes and was released.

"Nicole is home resting and will return to work this evening," her rep said in a statement. "We are proud of the weight that Nicole is gaining and her focus on her health."

Last October, Richie announced she was undergoing diagnostic treatment to help determine why she was having trouble putting on weight. Her rep said that Richie was focusing on nutrition and that she was determined to "achieve this goal in a healthy way."
So much for the double fisted coffee run. Seems weird that she would be returning to work that night. Why not just take Friday night off, especially when you have to be "treated." Hmmm, perhaps someone told Nicole it was NEDAW.