Nikki Reed on Breaking Dawn Wedding Scenes
Breaking Dawn's Nikki Reed Sets Her Sights on Dexter!
Nikki Reed popped up in San Francisco last week to promote Breaking Dawn Part 1 with costars Ashley Greene, Jackson Rathbone, and Charlie Bewley. We chatted with the cast about the upcoming film and the Twilight stars shared their plans for the future as well. Nikki told us she has her sights set on Dexter, though she also opened up about shooting difficult Twilight scenes and the important person in her life who she won't let see the series.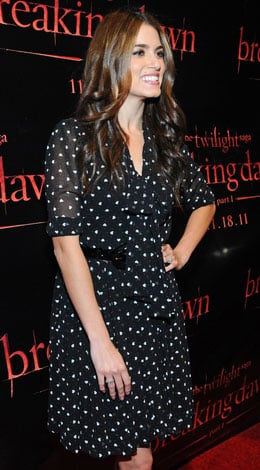 Nikki on why she wishes Twilight could go on: "It's nice knowing you have a job. I'm just being honest. People want to make it more dramatic than it is, it's not like we were on a TV show that got cancelled out of the blue and it's such a big shock. We knew how many books there were going into it and then there was a fourth book that came out later and that was made into two so we've been given a bonus trip. I'm very grateful we made it as far as we did and I'm very positive about the future."
Nikki on difficult Breaking Dawn set conditions: "We shot this battle scene for the second movie in a warehouse that was filled with fake snow, and it was giving everybody eye infections. Also, the wedding is absolutely beautiful but what no one sees is that we were standing in 25 degree weather and it's raining and muddy and you're walking in your beautiful dress."
Nikki on her husband Paul McDonald watching her movies: "I won't let him see the Twilight series. He hasn't seen any of the films. He saw Lords of Dogtown when it was on TV, and he watched Thirteen — I watched it with him."
Nikki on her small screen aspirations: "I would love to be on a TV show. I love True Blood. Right now what I'm fighting for is Dexter. There's no role right now but I'm waiting, I love Dexter so much I can't sleep at night because I'm waiting for Dexter."