Nnamdi Asomugha Bio
Why Nnamdi Asomugha Is Husband and Father Material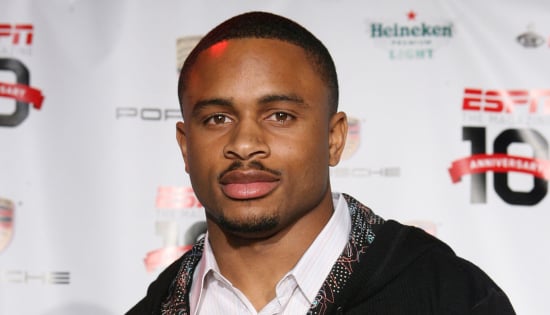 Kerry Washington and San Francisco 49er Nnamdi Asomugha made their low-key relationship official on June 24 with a wedding as under the radar as their relationship, and now, Nnamdi and Kerry are reportedly expecting a baby! The marriage came as a surprise to many fans of the Scandal star, so we did a little digging to find out more about Nnamdi, whom Kerry reportedly started dating last Summer. Check out five reasons the NFL player, philanthropist, and amateur chef makes great marriage — and father-to-be — material:
He gives back: Nnamdi, whose parents are Nigerian, formed the Asomugha Foundation with his family to help underprivileged youth in Africa and the USA achieve better access to education. He's hands-on, too: each year he takes a group of inner-city kids on a college tour. "My parents were among the first families from their area to leave Nigeria," Nnamdi told Success Magazine. "Once they got [to America], whatever they earned, they made sure to send some of it back." Kerry is also involved in several charitable efforts of her own, and the pair share an involvement in the Clinton Foundation, which could be how they initially crossed paths.
He knows how to cook: In an ESPN interview, Nnamdi made it clear he knows his way around the kitchen. The cornerback ran down a list of his signature dishes, including lasagna, enchiladas, and burritos. "Anything Mexican or Italian," he said. Lucky for Nnamdi, Kerry's parents grew up in New York's Brooklyn and the Bronx, and she says the Italian cuisine that's a mainstay in those neighborhoods has always been a family favorite.
He's down-to-earth: Professional athletes might be notorious for having outsize egos, but by all accounts, Nnamdi doesn't come close to fitting that stereotype. A Fox reporter who interviewed Nnamdi later wrote, "Nnamdi Asomugha does not like talking about Nnamdi Asomugha." In fact, "humble" is one of the adjectives that most frequently pops up in profiles of the football player.
He's in the same league as Oprah and two former presidents: Nnamdi is a recipient of the prestigious Jefferson Award, which has been compared to the Nobel Peace Prize for philanthropy and community service. Other high achievers who have snagged the honor? Oprah Winfrey, President Clinton, Colin Powell, and President Carter, to name a few.
He's not afraid to serenade a woman: The football player is apparently a big softie when it comes to karaoke nights. In a chat with ESPN, he named the Neil Diamond ballad "Sweet Caroline" among his go-to songs.
— Additional reporting by Laura Marie Meyers