Obama Explains Obamacare
Insurance Salesman in Chief: President Obama Explains Obamacare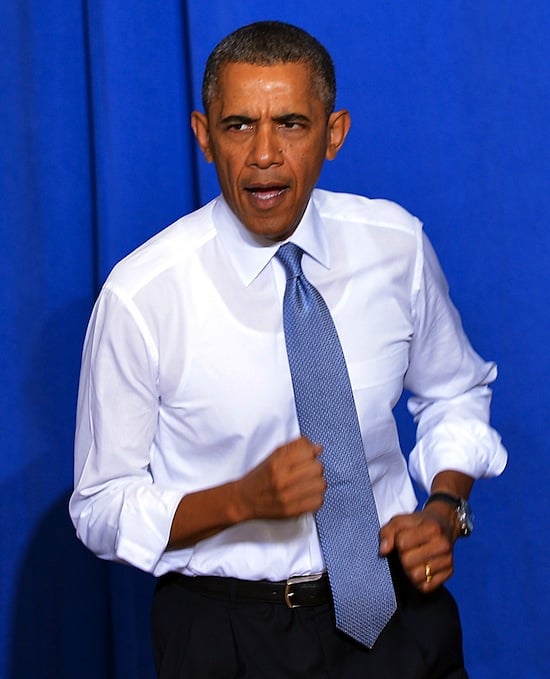 With his sleeves rolled up and a bounce in his step, President Obama looked like he was back on the campaign trail today at a community college in Maryland. He was in town to pitch the Affordable Care Act, which picks up steam Oct. 1 when insurance exchanges open. That's just five days away. Obama reached out to young, healthy Millennials gathered at the college Thursday, encouraging them and their peers to sign up. If they do, it will keep the cost down for the whole system.
The president wants everyone to check out HealthCare.gov to learn about their options, and he said thanks to the new law, "millions of Americans who don't have health insurance because they've been priced out of the market" will now be able to afford it. Obama also took on his Republican opponents: "You had a state representative somewhere say that it's as destructive to personal and individual liberty as the Fugitive Slave Act." He continued, "Think about that. Affordable health care is worse than a law that lets slaveowners get their runaway slaves back." Obama is putting on a full-court media press for the Affordable Care Act, also known as Obamacare. Earlier this week, he stopped by the Clinton Global Initiative and said that he's certain Americans will love the new health care law, especially when they realize insurance can be cheaper than their cell phone bills. He is also taking to Twitter to promote the law.
Retweet if you agree: Women shouldn't have to pay more for their insurance just because they're women. #Obamacare

— Barack Obama (@BarackObama) September 26, 2013
As for how the public feels, there seems to be confusion. A new CNBC poll found that 46 percent of Americans oppose "Obamacare" while 37 percent oppose the "Affordable Care Act" — but they're the same thing. For his part, Obama quipped today that he's certain once the new law starts working effectively, Republicans will stop calling it Obamacare. But he also admitted there will be some kinks: "Like any law, like any big product launch, there are going to be some glitches as this unfolds." In the meantime, if you're looking to get new insurance under Obamacare, check out how much you might pay with this handy calculator below.