Obama's Nelson Mandela Funeral Speech
Obama's Stirring Nelson Mandela Tribute Will Inspire You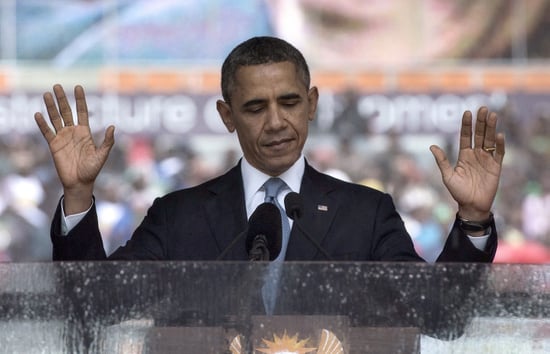 Four US presidents, royals, the pope, and leaders from over 90 countries gathered with South Africans today to celebrate the life of Nelson Mandela in Johannesburg. Famous faces, including South African actress Charlize Theron and Irish singer and activist Bono, were also in the crowd of thousands at FNB Stadium. As the rain poured down, President Barack Obama gave one of the more memorable speeches of the four-hour memorial, thanking the people of South Africa for sharing Mandela with people of every race and walk of life around the world.
The first black president of the United States struck a personal note during his address (seen above) saying people like he and Michelle are beneficiaries of the struggles of previous generations. But he also challenged those moved by Mandela's life to continue that progress and not just pay lip service to it. Obama said:
"Around the world today, men and women are still imprisoned for their political beliefs; and are still persecuted for what they look like, or how they worship, or who they love. We, too, must act on behalf of justice. We, too, must act on behalf of peace. There are too many of us who happily embrace Madiba's (Mandela's) legacy of racial reconciliation but passionately resist even modest reforms that would challenge chronic poverty and growing inequality."
During the memorial, Obama also shook hands with Cuban President Raul Castro, marking the first meeting between America and Cuba's leaders in about 50 years. And the president even found time to take a selfie with Britain and Denmark's prime ministers.
Keep reading to see more photos from today's memorial.