Obama's Selfie at Nelson Mandela's Funeral
The Truth Behind Obama's Selfie and Michelle's Reaction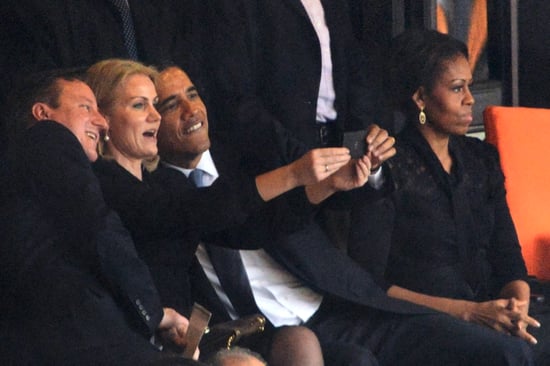 President Barack Obama's inspiring speech at Nelson Mandela's memorial Tuesday was a bit overlooked on the Internet after a photo emerged of him taking a selfie with the Danish and English prime ministers. The photo of a photo raised so many questions: which world leader instigated it? Do they all have secret Instagram accounts? What hashtag should one use for a potentially inappropriate funeral selfie? But the one thing everyone seemed sure about: First Lady Michelle Obama was not impressed.
Now the plot of selfie-gate has thickened. The professional photographer who took the snap has written a blog post called "The story behind 'that selfie.'" Roberto Schmidt explained:
"Obama took his place amid these leaders who'd gathered from all corners of the globe. Among them was British Prime Minister David Cameron, as well as a woman who I wasn't able to immediately identify. I later learned it was the Danish Prime Minister Helle Thorning Schmidt. I'm a German-Colombian based in India, so I don't feel too bad I didn't recognize her! At the time, I thought it must have been one of Obama's many staffers.

"Anyway, suddenly this woman pulled out her mobile phone and took a photo of herself smiling with Cameron and the US president. I captured the scene reflexively. All around me in the stadium, South Africans were dancing, singing, and laughing to honor their departed leader. It was more like a carnival atmosphere, not at all morbid. The ceremony had already gone on for two hours and would last another two. The atmosphere was totally relaxed."
As for Michelle's response, keep reading to find out.
The photographer continued: "In reality, just a few seconds earlier, the first lady was herself joking with those around her, Cameron and Schmidt included. Her stern look was captured by chance."
So there you have it. Michelle was not upset. Like the photographer, she probably felt the friendly photo fit with the convivial vibe of the event. Case closed.