Obama on Trayvon Martin Press Conference
President Obama: Trayvon Martin "Could Have Been Me"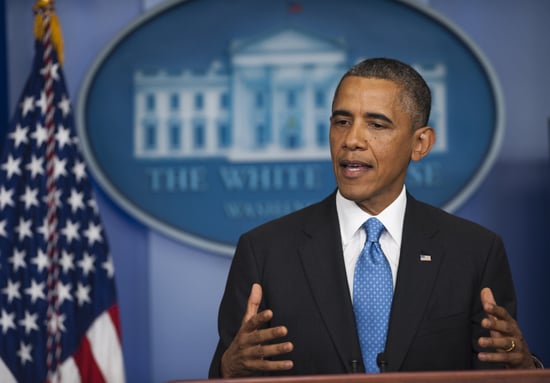 President Barack Obama held a surprise press conference today to further address the shooting death of black teenager Trayvon Martin and the recent acquittal of the shooter, George Zimmerman. After calling for calm reflection of America's gun laws following the verdict last weekend, Obama made things personal this time. He said:
You know, when Trayvon Martin was first shot, I said that this could have been my son. Another way of saying that is Trayvon Martin could have been me 35 years ago.
Obama also acknowledged that in the African-American community "there's a lot of pain around what happened here," and said he, too, had experience with the burdens of racial profiling. He admitted:
And there are very few African-American men who haven't had the experience of walking across the street and hearing the locks click on the doors of cars. That happens to me, at least before I was a senator. There are very few African-Americans who haven't had the experience of getting on an elevator and a woman clutching her purse nervously and holding her breath until she had a chance to get off. That happens often.
For their part, Trayvon's parents called President Obama's statements a "beautiful tribute to our boy." They also spoke out last night about why they believe the jury voted not guilty. Trayvon's mother said: "Maybe they didn't see Trayvon as their son. They didn't see Trayvon as a teenager. They didn't see Trayvon as just a human being that was minding his own business." It seems President Obama was hoping to close that possible disconnect today.
See a video of the president's remarks below.