Obama's Turkey Pardon Vote
Obama Asks America: Which Turkey Should I Pardon?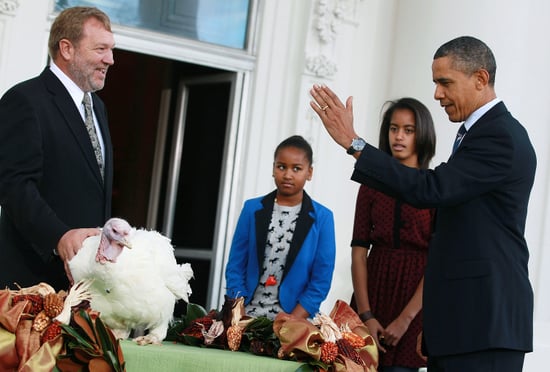 President Obama is mixing up a Thanksgiving tradition this year, asking Americans to vote on which turkey he should pardon Wednesday in the Rose Garden. An official website has been created, telling the public that the choice is theirs this holiday season. To help you decide if you're on #TeamPopcorn or #TeamCaramel, handy facts about the birds have been provided, as well as Soundcloud uploads of their gobbles. Turkey Popcorn prefers soybean and is more of a Lady Gaga fan, while Caramel is a fan of corn and Beyoncé. If you're already feeling attached to both, don't fret — this isn't quite a Hunger Games-level fight to the death. While only one victor will take home the title of National Thanksgiving Turkey, the fine print states that both turkeys will be spared slaughter.
The National Turkey Federation has presented the President of the United States a turkey for decades. But it's a relatively new development that the president pardons it, rather than having the White House chef cook up that specific bird. Back in the days of President Kennedy, for example, the turkey came wearing sign reading, "Good Eating Mr. President," proclaiming itself a future meal. George Bush Sr. started the pardon in 1989, and more recently, between 2005 and 2009, the saved turkeys were sent to live out their lives at either Disneyland or Disney World. This year's turkeys will find a home in less-sunny Virginia, at George Washington's Mount Vernon Estate.
Check out photos from past turkey presentations below.
During her first turkey pardon in 2009, Sasha Obama seemed to consider a future as a vegetarian.
In 2006, Flyer the turkey was spared by President George W. Bush.
Liberty the turkey poked around with President Bush in 2001.
In 1995, the freedom-minded turkey named Thomas Jefferson almost escaped before President Bill Clinton could grant him a pardon.
In 1988, President Reagan hammed it up during the Thanksgiving turkey presentation.
President Lyndon B. Johnson inspected his Thanksgiving meal in 1967.
On Nov. 19, 1963, days before his death, President John F. Kennedy looked happy to participate in the traditional turkey presentation.
May the odds be ever in the favor of your favorite turkey.