Obamacare Glitches
The Good and the Bad of Obamacare's Opening Day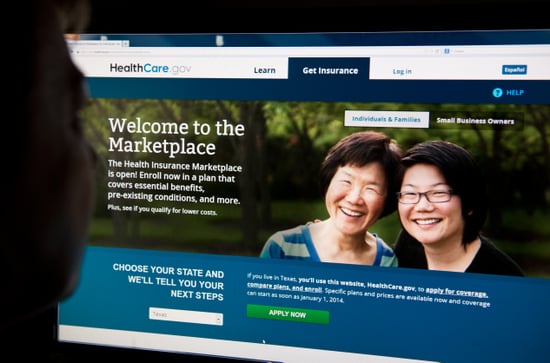 A major portion of Obamacare opened yesterday — and yes, it's the same thing as the Affordable Care Act. Despite confusion over the law's name, glitches in the HealthCare.gov site, and a government shutdown, a record number of people visited new healthcare exchanges yesterday. The exchanges act as marketplaces where people who are uninsured or without job-based insurance can shop for affordable policies. They're a crucial component of Obama's signature piece of legislation, which House Republicans are trying to delay and many Americans don't understand. Here's a look at the good, the bad, and the ugly from Obamacare's opening day.
People Are Confused
A CNBC poll found last week that 46 percent of voters oppose Obamacare, while only 37 percent oppose the Affordable Care Act — but they're the exact. same. thing. Jimmy Kimmel shed light on this disconnect on his show last night, when he asked people on the sidewalk whether they favor Obamacare or the Affordable Care Act. The answers revealed that some think the Affordable Care Act is "more American," while Obamacare (again, the same thing) is socialist. Watch below and shake your head at the law's branding problem and the public's information issue.
But They're Using the Exchanges!
Love, hate, or just confused by it -learn all you can about the Affordable Care Act which starts enrolling tomorrow! http://t.co/yJk1kjpm2J

— *NSYNC (@NSYNC) September 30, 2013
Perhaps this tweet from one of the best boy bands of all time helped drive record traffic to HealthCare.gov? Jokes aside, more than one million people signed on to the site yesterday — before 7 a.m. A total of 2.8 million visited, which is a good start, since the Obama administration wants to get seven million people signed up this year. Hotlines received 81,000 calls, and chat systems talked to 61,000 people. New York State's newly unveiled exchange got 10 million visits, as well.
And Encountering Some Glitches
Thanks to this traffic and an apparent lack of preparedness for it, citizens saw tons of bugs yesterday that prevented them from accessing the exchanges. To be fair, the Grand Theft Auto online video game had the same problem with its launch yesterday, and the White House points out that all major product launches face glitches and that it's all being addressed. Even so, the administration did have three years to see this coming. What's your take on Obamacare so far?