The Obamas at the Oregon Basketball Game 2013 | Pictures
Why Kanye West Won't Mention Obama Anymore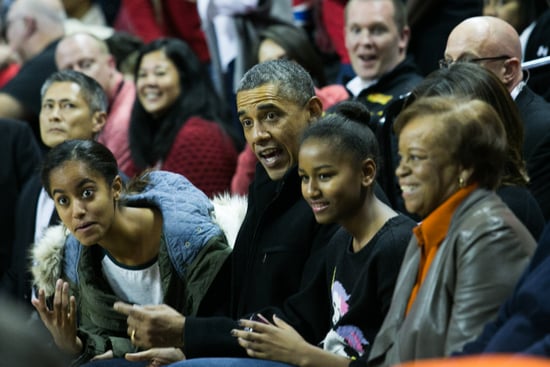 It was a Sunday fun day for the Obamas yesterday. The first family headed to the University of Maryland's basketball game against Oregon State University to support Michelle Obama's brother, Craig Robinson, who coaches the Oregon team. President Barack Obama was animated on the sidelines with his daughters, Malia and Sasha, and fans had fun with the Obamas too. A group of students held up a sign that read, "Obamas, will you come to Terp Thon?" The University of Maryland event, held in March, is a 12-hour dance marathon that benefits the Children's National Health System, so the students definitely knew their audience with Michelle, who's known for her health — and dance — initiatives.
While the students certainly seemed excited by the president's appearance, there's one person who's made it clear that he definitely won't be acknowledging Obama: Kanye West. During an interview with Philadelphia's Hot 107.9 radio station, Kanye said he's done talking about Obama. Asked whether he'd ever "break bread" with the president, Kanye replied, "Oh, you talking about how he used to come and visit me and my mama and tell me he's about to run for president? I just think that we're pop icons, and the president likes to use that type of thing just to be down."
The rapper elaborated, addressing some of Obama's negative comments about him. "People was fine with me being everyone's punching bag for about five years," he said. "'This is the person we love to hate, so if you want to distract people from everything that's going on, just say you hate Kanye, and there's going be 30 other people who say they hate Kanye.' That was kind of my position in culture and he kind of used that too — 'Oh, he's a jackass,' because that's how the world felt." Kanye's bottom line? "No, I'm not gonna mention him no more; I'm past that. That's out of my thoughts. That's lowering my priority of thinking at this point."
For more pictures from the Obamas' basketball outing, just keep reading.