Octavia Spencer in Critics' Choice Awards Press Room
Octavia Spencer Says She's "the Same, Old, Ordinary Girl" as She Takes Home Two Big Wins
Octavia Spencer hit the press room at the Critics' Choice Awards tonight fresh off her best supporting actress and best ensemble cast wins. The actress has been receiving lots of accolades for her role in The Help this award season, but when she stopped by to chat with reporters after accepting her latest honors, she said she's "still the same, old, ordinary girl from Mississippi" that she was before becoming a household name. She also promised we won't be seeing any pies come out of her own kitchen anytime soon during her chat with reporters.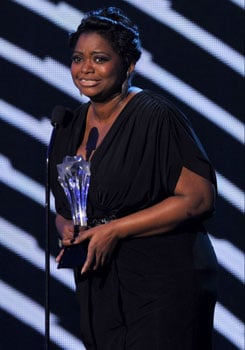 On how much life has changed since The Help came out: "The biggest change is, three days a week I work out with a trainer, because otherwise I would half ass it. Honestly, my life hasn't changed that much. I am grateful that I had this opportunity and I am getting to bigger rooms and more substantive roles, but I'm kind of glad I'm still the same, old, ordinary girl from Montgomery, AL."
On the women who inspire her: "The women that inspired me growing up as an actress are Sally Field, Sissy Spacek, Cicely Tyson, Esther Rolle, Jessica Tandy, and . . . Allison Janney, [who] I got to work with in real life, is one of my idols. And there are a lot of young brilliant actors in the movie, Jessica Chastain being one of them, Viola Davis being one of them. So to be in a comedy of all of this brilliance is more than an actor can hope for."
On her own kitchen skills: "Honey, I don't bake at all, I don't cook at all. I'm not a cook, you guys do not have to worry. Even though they said they're serving Minnie's chocolate pie for dessert in there, I would stay far, far away from it. But that's just me."
On The Help's impact: "We've done many Q&As all over the world, actually, and there are a lot of people who were moved by The Help. I was moved by The Help when I read the book and then when I saw it for the first time it was with Tate Taylor, the director, Viola Davis, and her husband. And I was moved by it. I think everybody likes rooting for the underdog, and the fact that it was part of our nation's history — we've grown so much — is a testament to how far we've come, but we still have a lot of work to do."