Oprah continues to spread goodwill around the world with her latest effort, a $40 million girls' school in South Africa. The school opened today with 152 students that were handpicked by Oprah herself. The school is called The Oprah Winfrey Leadership Academy for Girls and came about due to a promise that Oprah made to Nelson Mandela six years ago to give students a better future. Here's more: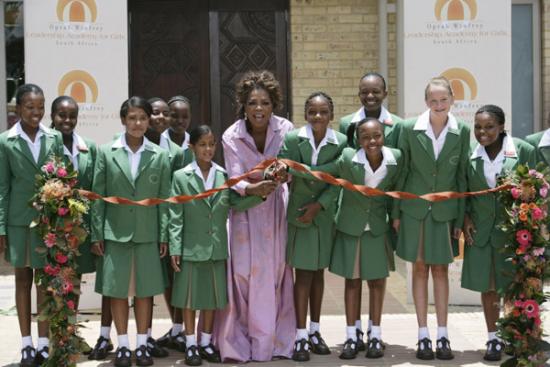 "I wanted to give this opportunity to girls who had a light so bright that not even poverty could dim that light," Winfrey said at a news conference.

Winfrey has said that she decided to build her own school because she wanted to feel closer to the people she was trying to help.

The $40 million academy aims to give 152 girls from deprived backgrounds a quality education in a country where schools are struggling to overcome the legacy of apartheid.

By educating girls, Winfrey said she hoped she could help "change the face of a nation."

"Girls who are educated are less likely to get HIV/ AIDS, and in this country which has such a pandemic, we have to begin to change the pandemic," she said.
Looks like Oprah is kicking off the year doing what she does best - giving back. Of course part of this good deed comes from frustration in the states. Oprah said, "I became so frustrated with visiting inner-city schools that I just stopped going. The sense that you need to learn just isn't there," she says. "If you ask the kids what they want or need, they will say an iPod or some sneakers. In South Africa, they don't ask for money or toys. They ask for uniforms so they can go to school. For more pics of Oprah plus Chris Rock, Gayle King, Babyface and Mariah just read more