Oscars Live Viewing Party 2013
Join Us For Our LIVE Oscars Viewing Party!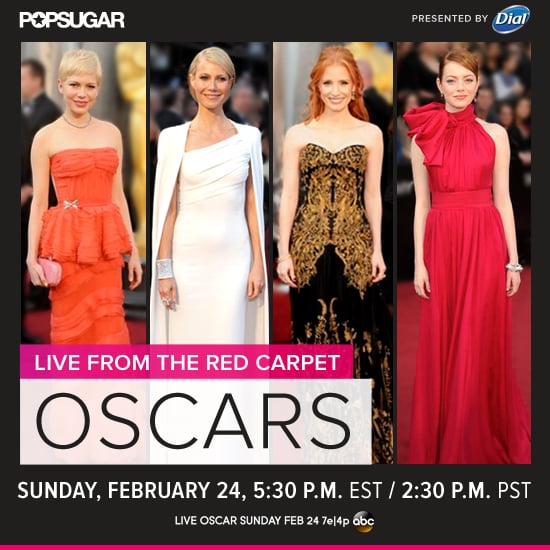 The Academy Awards are today, and we're celebrating the grand finale of award season with a LIVE Oscars show! Tune in as POPSUGAR's Lindsay Miller reports LIVE on the red carpet, while in the studio, POPSUGAR editors Annie Scudder, Becky Kirsch, and Matthew Rodrigues chat about everything from the red-carpet arrivals and show performances to the best acceptance speeches of the night. We will also be talking to POPSUGAR Fashion expert Allison McNamara LIVE from the Oscar red carpet as she anchors the first-ever Red Carpet Digital Lounge as part of the official Oscars Backstage Pass Experience. We'll be sharing all the highlights and biggest moments throughout the night, so tune in right here on POPSUGAR starting at 5:30 p.m. EST/2:30 p.m. PST.
Plus, we'll also be posting pictures of the action as it happens tonight. So make sure to check out the up-to-the minute red-carpet arrivals, vote on your favorite looks with our fashion and beauty polls, share your thoughts in the comments, and follow along during the show with our printable Oscars ballot. We'll also be sharing our own behind-the-scenes snaps from the whole day, so follow POPSUGAR on Twitter, Facebook, Instagram for the latest.
Don't forget to download the official Oscars app, and catch the Oscars today at 7 p.m. EST/4 p.m. PST on ABC!